Counterfeit medicines and the need for a global approach
Posted: 16 October 2015 |
Counterfeit medicines pose a serious risk to public health around the world. The trade in fake drugs is considerable; according to Pfizer's own company records, more than 200 million counterfeit doses of Pfizer product have been intercepted since 2004. Meanwhile, the issue of counterfeits has no single or simple solution and cannot be eliminated by any one individual, organisation or government. It is a global problem that needs а global, collaborative approach.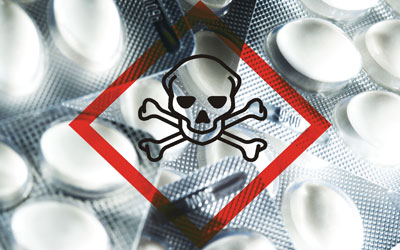 Defining counterfeit medicines
The World Health Organization (WHO) defines a counterfeit drug as "one which is deliberately and fraudulently mislabelled with respect to identity and/or source. Counterfeiting can apply to both branded and generic products and counterfeit products may include products with the correct ingredients or with the wrong ingredients, without active ingredients, with insufficient active ingredients or with fake packaging."
The manufacturing and distribution of counterfeit medication is a criminal activity in most countries and threatens the safety of the world's medicine supply. Medicines have become an attractive target for counterfeiters because they can be of high value and in strong demand. Illegitimate medicinal products can also be produced relatively cheaply. However, counterfeiters have shown to be negligent and make medications in unsanitary environments using cheap and toxic substitutes. They keep their margins and profits significantly high by ignoring good manufacturing practices (GMP) standards. Their production and distribution do not abide by regulatory authority guidelines, which means that the adverse reactions from these medicines cannot be monitored. Most counterfeit medicines are manufactured in unlicensed and unregulated sites, and their content and quality is not regulated.
There are two main ways in which a counterfeit medicine can reach patients. They can purchase such drugs illegally from illicit sources including online pharmacies, or they can approach legitimate local pharmacies or online suppliers and unwittingly buy fake products from them3. Patients can avoid exposure to counterfeits if they know their medicine. When they receive a refilled prescription, they should note if there is any difference in colour, shape, size and taste, look for changes in the packaging or any evidence of tampering, and contact their physician or pharmacist if any of these counterfeit indicators are present4.
Counterfeit drugs have been shown to contain too much, too little or none of the active ingredients of the legitimate medicine, with varying consequences depending on the disease. They are therefore inferior to the genuine medicines they copy in terms of safety, efficacy and quality, and their lack of active ingredients can negate any therapeutic gains one can get from them. Some counterfeits – those with a low level of active ingredients – may be able to tackle weaker diseases but the stronger strains may develop resistance to the drug. This means that the situation can be exacerbated as resistance to genuine medicines also increases. If the disease spreads across large populations and builds resistance as it progresses, this could reduce the efficacy of entire medicine classes.
On occasion, ingredients of counterfeit drugs have contributed to patient deaths5. Laboratory tests have shown them to contain toxic ingredients, such as heavy metals, arsenic, boric acid and other dangerous ingredients such as brick dust, floor wax, leaded paint, talc and cartridge ink. Pfizer takes the issues associated with falsified drugs very seriously. The company has confirmed that their products have been counterfeited in at least 109 countries and at least 78 Pfizer medicines, including treatments for erectile dysfunction (ED), pain, Alzheimer's disease, cardiovascular conditions and cancers have been detected as being fake. Many of these are lifesaving medicines.
Since 2004, working with enforcement authorities around the world, Pfizer Global Security has prevented almost 204 million illegitimate doses of Pfizer products from reaching patients, including over 108 million counterfeit finished doses (Pfizer tablets, capsules and vials) and enough active pharmaceutical ingredient to manufacture more than 95.94 million additional tablets.
The global differences of an illicit market
Evidence of the impact of fake medicines has been seen in both developed and developing markets, although there are some broad differences in how each market operates. Counterfeiting has been shown to be a concerning issue in developed markets6. Pfizer's own statistics support this – during 2014, authorities from 22 European countries reported the seizure of almost 1.36 million doses of fraudulent Pfizer medicines. The illegitimate trade has made widespread use of the Internet to sell these drugs to patients and the WHO has revealed that in over half of cases, medicines purchased over the Internet from illegal sites that conceal their physical address have been found to be copies of the real thing. While many countries seek to validate online pharmacies, the prevalence of unregulated web-based services remains. In the United States alone, where online pharmacies have to be certified by the National Association of Boards of Pharmacy (NABP), a 2014 report revealed that from 10,750 online pharmacies, 10,392 (97%) did not comply with NABP patient safety and pharmacy practice standards, or state and federal laws.
In emerging markets, while online trade exists, the 'real world' or 'street' trade is often more apparent. Combined with a less well developed trade and regulatory framework, the environment is at greater risk of falsified medicines reaching a broader population. For example, according to 'International Policy Network' research, 40 to 50% of the total supply of medicines to Pakistan and Nigeria could be counterfeit. Meanwhile, 36% of antibiotics and anti-malarial drugs in Nigeria and Thailand have been reported as substandard. The same study reflected upon the prevalence of counterfeit medicines in the Philippines, including anti-asthmatic drugs, anti-diarrhoeals, anti-hypertensive drugs, analgesics and vitamins7. According to the World Trade Organization, imitation anti-malaria medicine kills 100,000 Africans a year8.
Collaboration is key
Cooperation between stakeholders including governments, health professionals, regulatory authorities, police, customs services and the judiciary is very important in combatting the counterfeit market and enforcing legislation. Governments should also be encouraged to introduce appropriate legislations that form the basis for greater regulation and can allow for proper control of medicines.
A minority of WHO member states have passed deterrent laws that address the issue of counterfeiting and which penalise offenders appropriately6. Currently, only 20% of the 191 WHO member states seem to implement strong drug regulation, whilst 50% have drug regulations at rudimentary levels, and the remaining 30% have little to no drug regulation implemented9. Ensuring that deterrent anti-counterfeiting legislation has been passed and is being enforced would help in decreasing the current proliferation of counterfeit medicines in the global market.
Others in the health system can help prevent the distribution of bogus drugs. While some national pharmacy networks employ electronic systems to track medicines and add integrity to the system, these are not universally available. More work can also be undertaken to support pharmacists, educating them further on how to recognise counterfeits and manage suspect consignments when they are discovered10. In addition, where possible, front-line professionals – pharmacists, doctors and others who have direct dealings with patients and carers – should be equipped to educate the public on the dangers of acquiring medicines from illicit sources, and on the risks such drugs may pose to health. There are numerous examples of public awareness efforts taking place around the world; pharmacy trade associations, government agencies, consumer and patient groups, and other stakeholders in public health have all contributed – but these are often limited in duration and by geographic scope.
Equally important is the support of the pharmaceutical industry. The industry continuously works to improve the presentation of a medicinal product to make it more challenging to counterfeit, using technologies like tamper-evident packaging, holographic- or colour-shifting ink markers, all of which are intended to help supply chain partners identify legitimate medicines. In addition, Pfizer employs an experienced network of security professionals to help identify illicit trading. This group provides intelligence to national and international authorities and supports investigations and seizures of counterfeit product.
This long-term effort has led to some high-profile successes. For example, Pfizer worked with the UAE authorities to seize over 601,000 counterfeit ED medications in the country through a series of raids in 2014. The raids helped expose a counterfeiting network that supplied counterfeits from China for distribution in the Gulf States. Acting on information provided by Pfizer's Global Security team, authorities in the UAE arrested the perpetrator who was first identified as a key member of the criminal enterprise in 2007, attempting to smuggle counterfeit cardiovascular medicines from China to Dubai for further distribution throughout the Gulf States. This successful operation relied on evidence from separate investigations in China, Jordan, Romania, the UAE and the US.
In general, Pfizer has in place a focused and aggressive anti-counterfeiting program in which it develops leads and refers them to authorities around the world for their action. In addition, Pfizer has provided training to customs and regulatory authorities in 149 countries to assist law enforcement in preventing fake medicines from reaching patients – and the company is committed to continuing its work in all aspects of this collaborative effort.
Future opportunity in emerging markets
The supply and distribution of medicines is complex, and it is evident that counterfeiters have been able to breach the legitimate supply chain on a number of occasions, as well as continue to supply substandard product via a black market in many countries. As developing economies mature it would be prudent to consider introducing longer-term measures intended to stem the illicit trade. Cooperation between national bodies and their healthcare organisations is key to this. The WHO has suggested a collaborative approach should include developing common strategies, timely exchange of information and harmonisation of measures to prevent the spread of falsified drugs, and ultimately a more advanced plan could include the development of an international convention to limit trade in counterfeit and substandard drugs11.
In order to support this, the pharmaceutical industry must continue to invest in improving access to medicines. Pfizer, for example, is aggressively monitoring its supply chain, identifying and disrupting key suppliers of counterfeit medicines, and fostering collaborations with distributors, health professionals, law enforcement agencies and regulatory bodies to ensure integrity of its medicines is protected so that patients can benefit from the medical innovations it offers.
References 
http://www.stimson.org/images/uploads/research-pdfs/Full_-_Counterfeit_Drugs_and_National_Security.pdf
Paul N. Newton et al., "Manslaughter by Fake Artesunate in Asia–Will Africa Be Next?" PLoS Medicine 3, no. 6 (June 2006), available at http://dx.doi.org/10.1371/journal.pmed.0030197 (accessed June 6, 2007).
Lancet, 2012, "Counterfeit Drugs: A Growing Global Threat", 379(9817):685. Lybecker, K.M., 2004, "Economics of Reimportation and Risks of Counterfeit Pharmaceuticals", Managed Care, 13(3):3-10.
Biography
David Shore leads the Europe, Middle East and Africa regional Global Security team for Pfizer, the world's largest pharmaceutical company. The remit of this team of security professionals is to protect the company's personnel; real and intellectual property; reputation; and the integrity of its medicines. A primary concern is the threat that counterfeit medicines pose to patient health and safety, and David oversees and directs the investigation and resolution of criminal acts and allegations affecting Pfizer, including halting the manufacture and distribution of counterfeit and illegal medicines. Prior to joining Pfizer in 2005, David was employed for 20 years as a detective on various units within the Metropolitan Police Service. The majority of his police career was spent within dedicated teams investigating major and organised crime. These included: the National Crime Squad; the Regional Crime Squad; the Central London Crime Squad; various Murder Squads; Drug Squads; and finally – Special Branch.