Approaches in subcutaneous delivery of monoclonal antibodies
Currently, subcutaneous delivery of therapeutic proteins is a fast-growing field, especially for such established modalities as monoclonal antibodies, which require large quantities of drug to be administrated. Different approaches, including high protein concentration, speciality formulations and drug delivery matrices, as well as devices enabling a more rapid administration of larger liquid volumes, are being developed. The fastest growing field is the development of drug-device-combination products, requiring optimisation of highly complex and dynamic systems. The early identification of patients' needs translated into target product profile for drugs and devices, as well as their integration during the development process, are key success factors. The state of this field will be discussed in this article.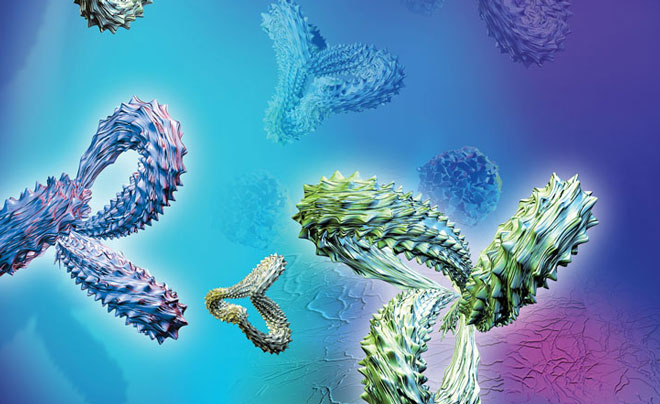 Biopharmaceutical products emerged as a direct consequence of the explosive development of life sciences and, in particular, cell and molecular biology during the past few decades. Biotherapeutics represent a broad range of molecules: hormones, growth factors, peptides, small proteins, cytokines, therapeutic replacement enzymes, blood factors, anticoagulants, monoclonal antibodies, their fragments and fusion proteins, and there are now over 170 launched products1. The first approved biopharmaceutical drug product was the hormone recombinant human insulin, marketed by Eli Lilly as Humulin in 1982 and produced by the process developed at Genentech as secreted from the correspondingly started cell culture1.
In 1995 Genzyme pioneered the concept of enzyme replacement therapy by introducing to the market the recombinant product imiglucerase (Cerezyme), obtained from genetically engineered Chinese hamster ovary cells. In 1997 the first full length chimeric monoclonal antibody, rituximab, and the first full length humanised monoclonal antibody, daclizumab, were approved for commercialisation2,3. This started the era of monoclonal antibody biotherapeutics, currently the fastest growing field of pharmaceuticals with projected annual sales of 125 billion US dollars by 20204 . Presently, the annual sales of Humira (a monoclonal antibody which inhibits TNF to generate antiinflammatory effect) are above 12 billion US dollars4 . Humira (the biggest blockbuster biotherapeutic of today) is a monoclonal antibody drug product that is administered at high concentration in liquid formulation in a prefilled syringe (PFS) for subcutaneous administration. It has set the bar high and paved the way for increasing convenience to patients. 
Formulation approaches
The emergence of biotherapeutic drug products required innovative approaches in process development, including novel approaches in formulation; this is very different from those applied to small-molecule drugs. Biotherapeutics are complex molecules with marginally stable conformational and colloidal stability, so that physical stability (to avoid any fold compromise, potentially leading to particulate matter formation in the size range from aggregates to visible flocculants) and chemical stability (to avoid any hydrolysis, deamidation, oxidation racemisation or isomerisation) are to be optimised during formulation development2. Originally, the main approach to biotherapeutic drug formulation development was lyophilisation, as removal of water significantly slowed chemical degradation processes and improved longterm stability. Lyo formulation development requires optimisation of the vehicle composition followed by lyo cycle optimisation for time-efficient water removal (economic considerations) without compromising potency of the biotherapeutic drug. 
The rest of this article is restricted to logged-in members. Login or subscribe free to read it.