21st Anniversary Supplement
European Pharmaceutical Review has brought you the most up-to-date and relevant pharmaceutical science for the past 21 years. This anniversary supplement brings you a selection of topical views from across the industry, reviewing progress over that time, as well as looking to the future.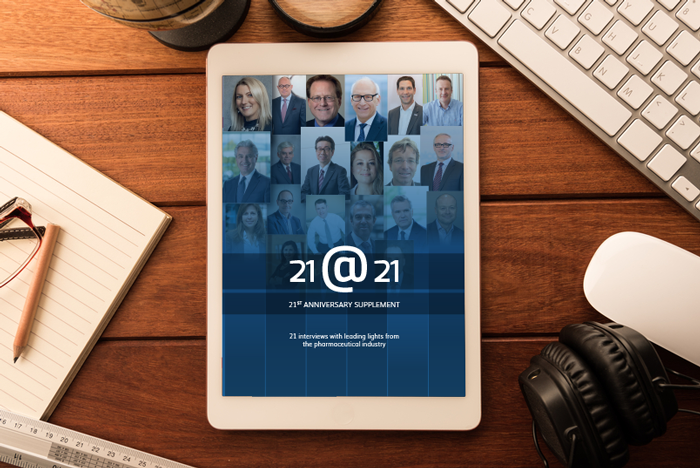 To celebrate 21 years since the launch of European Pharmaceutical Review we present 21 interviews with some of the leading lights from across the pharmaceutical industry. We have interviewed top manufacturers, major CMOs and CDMOs, key suppliers and important associations to gain their opinions on the landmark events of the past 21 years, and to get their insights into key developments that are likely to shape the industry going forward. Do their thoughts chime with yours, and how do opinions and reactions vary across the sector?
Pfizer: Concentrating on core areas to improve lives
Sanofi: Unravelling the complex, together
Allergan: Living bold and doing what's right
Boehringer Ingelheim: Achievements to be proud of
How Mylan is meeting challenges in sustainability
Servier: Bringing innovation to patients
Kyowa Kirin: Creating opportunities from challenges
Personalised medicine and partnering – key areas for Ferring
How pharma operations in Europe have changed in the last 25 years
Rapid testing methods: the cost-effective safety solution
A complete set of capabilities across the entire drug continuum
Continuous evolution and reinvention in biopharma
Strong partnership environment heralds success in pharma
Driving growth in emerging markets
Looking back, looking forward
The future of bioanalysis with microchip chromatography
A consistent focus on customers and their challenges
Comprehensive solutions from a single source
The company that never stops inventing
Providing the tools and solutions
Is the pharmaceutical industry good at innovation?
Issue
Related topics
Related organisations
3M, Agilent Technologies, Allergan Inc., AMRI, Boehringer Ingelheim, BPOG, Catalent, Ferring Pharmaceuticals, International Society for Pharmaceutical Engineering (ISPE), Kyowa Hakko Kirin, Lonza, Mylan, Parenteral Drug Association (PDA), Pfizer, PharmaFluidics, Recipharm, Robert Bosch Packaging Technology, Sanofi, Servier, Thermo Fisher Scientific, Wickham Laboratories