Guide To Testing
In this edition of our 'Guide to' series, learn how these leading companies' services and expertise can help you test your pharma/ biopharma products and medical devices.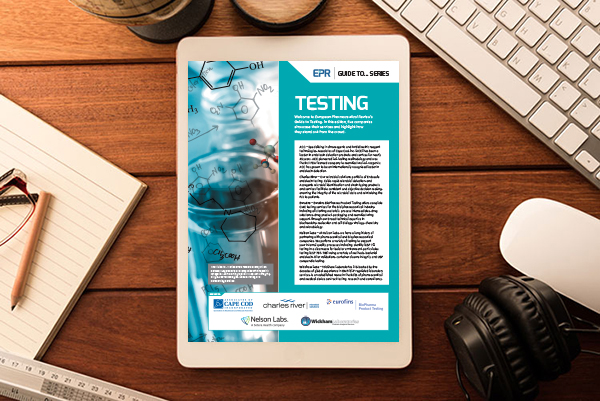 ACC
Specialising in chromogenic and turbidimetric reagent technologies, Associates of Cape Cod, Inc. (ACC) has been a leader in endotoxin detection products and services for nearly 45 years. ACC pioneered LAL testing methodology and was the first FDA licensed company to manufacture LAL reagents; ACC has grown to be an internationally recognised leader in endotoxin detection. 
Charles River
Our microbial solutions portfolio of Endosafe endotoxin testing, Celsis rapid microbial detection, and Accugenix microbial identification and strain typing products and services facilitate confident and objective decision making, ensuring the integrity of the microbial data and minimising the risk to patients. 
Eurofins
Eurofins BioPharma Product Testing offers complete CMC testing services for the bio/pharmaceutical industry, including all starting materials, process intermediates, drug substance, drug product, packaging and manufacturing support, through our broad technical expertise in biochemistry, molecular and cell biology, virology, chemistry and microbiology. 
Nelson Labs
At Nelson Labs, we have a long history of partnering with pharmaceutical and biopharmaceutical companies. We perform a variety of testing methods to support your internal quality processes including: sterility (USP 71) testing in a cleanroom for isolator environment, particulates testing (USP 787, 788) using a variety of methods, bacterial endotoxin, filter validations, container closure integrity and USP compendia testing. 
Wickham Labs
Wickham Laboratories Ltd has been involved in contract testing services in various capacities for the past 50 years. In this time, we have gained a range of testing experience across several industries, including food and nutraceuticals, bioanalytical services, veterinary diagnostics and vaccine production.