Novel radionuclide therapy found to be more effective in NET patients
The study shows modifying the standard of care for late-stage neuroendocrine tumours (NETs) with Evans blue dye makes the treatment more effective and potentially less toxic.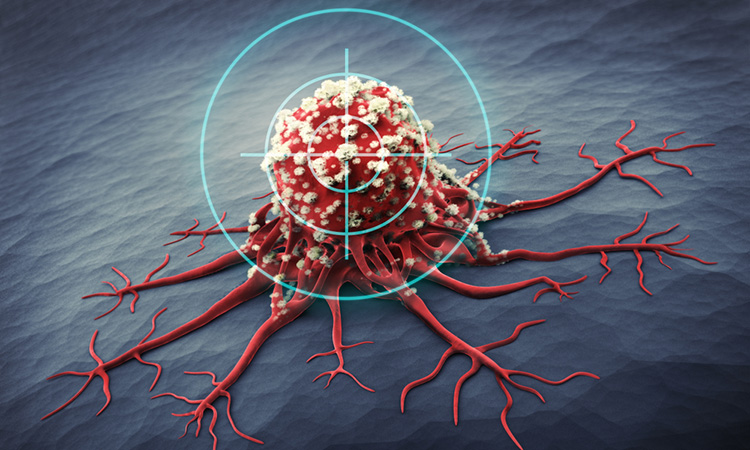 Trial data suggests that a novel treatment for late-stage neuroendocrine tumours (NETs) is more effective and causes fewer side effects than the current standard of care (SOC). According to investigators, the new peptide receptor radionuclide therapy could reduce mortality among NET patients and decrease the financial burden of their continual treatment.
NETs are a diverse group of tumours that originate from the neuroendocrine system, which regulates hormones throughout the body. The number of people who are diagnosed with NETs is growing (the incidence increased 6.4-fold between 1973 and 2012); however, because they are rare, varied and slow growing, the diagnosis of a NET can be delayed up to seven years. As a result, more than 50 percent of NET cases are at an advanced stage at the time of diagnosis.
The current SOC for late-stage NET patients is peptide receptor radionuclide therapy with 177Lu-DOTATATE, which is flushed from a patient's system rapidly after administration. Pre-clinical studies have suggested that if Evans blue (EB) dye is added to 177Lu-DOTATATE – creating 177Lu-DOTA-EB-TATE – the treatment can last longer in the body and be more effective.
In the new study, researchers sought to determine what dose of the modified 177Lu-DOTA-EB-TATE therapy is safest and produces the best tumour response.
The trial enrolled 32 NET patients and randomly assigned them into three groups treated with escalating doses of 177Lu-DOTA-EB-TATE: group A received 1.17 ± 0.09 GBq/cycle; group B, 1.89 ± 0.53 GBq/cycle; and group C, 3.97 ± 0.84 GBq/cycle. The treatment was planned for up to three cycles.
The treatment was found to be well-tolerated at all doses, no life-threatening (National Cancer Institute Common Terminology Criteria for Adverse Events [CTCAE] grade 4) adverse events were reported. However, CTCAE grade 3 haematotoxicity was recorded in one patient in group B (thrombocytopenia) and three patients in group C (thrombocytopenia in three and anaemia in one). CTCAE grade 3 hepatotoxicity (elevated aspartate aminotransferase) was also recorded in a single patient in groups A and C. No nephrotoxicity was observed.
The overall disease response rates were similar in groups A, B and C (50, 50 and 42.9 percent, respectively), and the overall disease control rates were higher in groups B (83.3 percent) and C (71.5 percent) than in group A (66.7 percent). Ultimately, the researchers decided that a 177Lu-DOTA-EB-TATE dose of 1.89 GBq/cycle was the most effective for tumour control in the NET patients but noted that with careful patient selection and monitoring, a 3.97 GBq/cycle dose could achieve an even better response.
A recent systematic review and meta-analysis of 177Lu-DOTATATE treatment in NETs indicates it has a disease response rate of approximately 20.5 to 27.6 percent and a disease control rate of roughly 78-79 percent. 177Lu-DOTATATE was also found to cause minimal adverse events, such as fatigue, nausea, vomiting and hormonal disorders.
"In terms of NETs, the more effectively we can use 177Lu for treatment, the more we will be able to reduce the financial strain on patients," stated Dr Xiaoyuan (Shawn) Chen, Nazarat Muzayyin Chair professor at the National University of Singapore. "Overall, this new treatment has the potential to significantly impact mortality and morbidity for neuroendocrine tumour patients…
"Now that we understand the efficacy of Evans blue dye in NET treatment, we hope that it can be utilised in the future to create various novel therapeutic radiopharmaceuticals not just for NET patients, but for other types of cancer patients as well."
The research was published in The Journal of Nuclear Medicine.