Enhertu improves survival in Phase III breast cancer trial
Enhertu (trastuzumab deruxtecan) significantly improved survival in the DESTINY-Breast03 Phase III head-to-head trial against trastuzumab emtansine.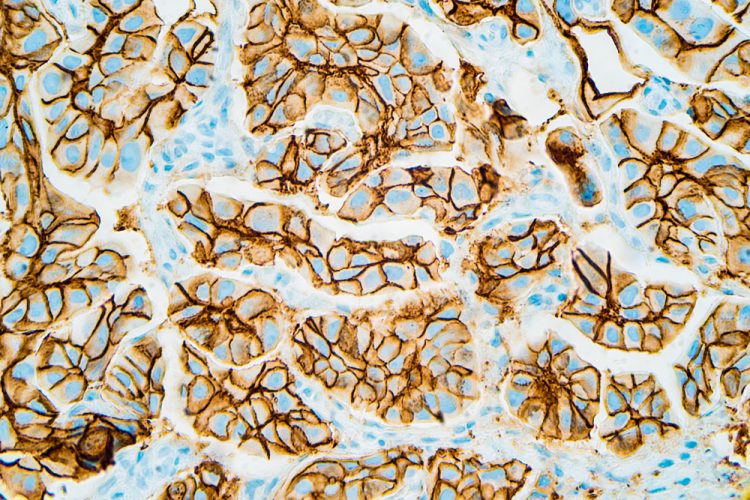 Positive high-level results from the head-to-head DESTINY-Breast03 Phase III trial has shown that Enhertu (trastuzumab deruxtecan) demonstrates superiority over trastuzumab emtansine (T-DM1) in treating HER2-positive metastatic breast cancer.
Enhertu is an HER2-directed antibody drug conjugate (ADC) developed by AstraZeneca and Daiichi Sankyo, consisting of a HER2 monoclonal antibody attached to a topoisomerase I inhibitor payload, an exatecan derivative, via a stable tetrapeptide-based cleavable linker. Enhertu (5.4mg/kg) is currently approved for the treatment of adult patients with unresectable or metastatic HER2-positive breast cancer who have received two or more prior anti-HER2-based regimens in the metastatic setting in the US, Japan, the EU and several other countries, based on the results from the DESTINY-Breast01 trial.
DESTINY-Breast03 is a global head-to-head, randomised, open-label, registrational Phase III trial evaluating the safety and efficacy of Enhertu (5.4mg/kg) versus T-DM1 in patients with HER2-positive unresectable and/or metastatic breast cancer previously treated with trastuzumab and a taxane.
The primary efficacy endpoint of DESTINY-Breast03 was progression free survival (PFS) based on blinded independent central review. Secondary efficacy endpoints included overall survival (OS), objective response rate (ORR), duration of response (DOR), clinical benefit rate, PFS based on investigator assessment and safety. DESTINY-Breast03 enrolled approximately 500 patients at multiple sites internationally.
At a planned interim analysis, the Independent Data Monitoring Committee (IDMC) concluded that DESTINY-Breast03 met the primary endpoint of PFS showing a highly statistically significant and clinically meaningful improvement for patients with HER2-positive, unresectable and/or metastatic breast cancer previously treated with trastuzumab and a taxane.
Enhertu also showed a strong trend toward improved OS compared to T-DM1 in a key secondary endpoint, although the OS data are still immature. The safety profile of Enhertu was consistent with previous clinical trials. There were no new safety concerns identified and no Grade 4 or 5 treatment-related interstitial lung disease events.
"There is a continued need for new options and better outcomes for patients with HER2-positive metastatic breast cancer who often experience disease progression after initial treatment with available standards of care," said Susan Galbraith, Executive Vice President at Oncology R&D. "These transformative progression-free survival results demonstrate the superiority of Enhertu compared to T-DM1, and the encouraging safety data may open future opportunities to bring this benefit to patients in earlier treatment settings."
The data will be presented at an upcoming medical meeting and shared with health authorities. Enhertu is also being further assessed in a comprehensive clinical development programme evaluating efficacy and safety across multiple HER2-targetable cancers, including breast, gastric, lung and colorectal cancers.