What to expect at the UK's flagship event for Making Pharmaceuticals
Serious about Making Pharmaceuticals? Attend the UK's largest event dedicated to supporting the future of the pharmaceutical product life-cycle.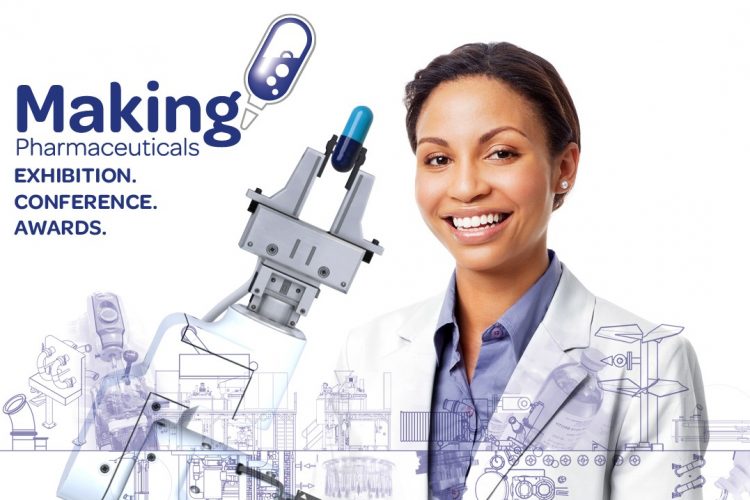 Now in its 8th year, Making Pharmaceuticals returns to Coventry on the 26-27 April to celebrate the dedication, hard work and perseverance of the pharmaceutical industry. Featuring a FREE-TO-ATTEND multi-stream conference and over 100 exhibitors.
In order to create high-quality pharmaceutical products, we know you need the right research, development, processes and equipment, as well as access to accurate information, new ideas, innovative products and the right answers and attitudes. At Making Pharmaceuticals UK you will find it all.
Each year the event hosts a major exhibition, with over 100 companies onsite to aid your product development, with experience in supplying the UK pharmaceutical sector. In addition, our 80+ speakers and 20+ supporting organisations have together created an unrivalled conference programme, featuring a huge number of topics spanning across two days. Absorb the thought-provoking content, providing you with the complete technical, practical, professional framework in which to make effective decisions.
This year's event will provide you with unapparelled opportunities for networking with the pharma community and is not to be missed!
The conference
The Making Pharmaceuticals 2022 conference will feature a wide range of topics covering the creation and manufacture of pharmaceuticals, including: ingredients, GMP, GDP, packaging, new technology, regulatory, supply chain, APIs, auditing, oral drug delivery, and data integrity. Contributing organisations include:
EXCiPACT
SeerPharma
The Pharmaceutical Quality Group (PQG)
Be4ward
International Society for Pharmaceutical Engineering (ISPE)
The Institution of Mechanical Engineers (pharmaceutical group) (IMechE)
the International Pharmaceutical Excipients Council Europe (IPEC)
the UK Centre for Process Innovation (CPI)
the Packaging Collective
MediLink
the Academy of Pharmaceutical Sciences (APS) Emerging Technologies Focus Group
MediWales
Royal Pharmaceutical Society Joint Pharmaceutical Interest Group (JPAG)
British Standards Institute (BSI)
Anglia Ruskin University
Research and Development
This year we have a number of universities taking part: Anglia Ruskin University – Medical Technology Research Centre Queens University Belfast, SSPC Research Centre at the Bernal Institute, Loughborough, and University College London, bringing the very latest in research to the conference in the areas of emerging technology for pharmaceutical manufacturing; pharmaceutical nanoparticles; surface engineering to control biological-surface interactions; nanomedicines for cancer therapy; discovery of novel anti-fibrotic drugs through phenotypic screening; and electrospinning for medicines manufacturing. 
Visit Making Pharmaceuticals in April 2022 and you can:
Meet existing and new suppliers to get a true assessment of the market
Bring yourself up to speed on the issues that could affect your business
Meet the exhibitors and source the latest guidance and equipment
Find what you need to help tackle the day-to-day issues that you face in your role
Take advantage of the FREE TWO-DAY CONFERENCE PROGRAMME
Benefit from advice and expert opinions from industry leaders
With post-pandemic January having exploded with activity for so many in the pharma sector, we know spending time out networking is precious, choosing the right events to go to has never been so important. Add Making Pharmaceuticals to your diary today with confidence and take part in the leading gathering of pharmaceutical professionals in the UK, which promises to provide you with a packed two-days of information, ideas and products in the pharmaceutical industry.
Serious about Making Pharmaceuticals? Register today to attend the UK's largest event dedicated to supporting the future of the pharmaceutical product life-cycle.
Contact Making Pharmaceuticals
If you would like more information on how you could be involved, please contact the team on:
t: +44(0)1892 518877
Related topics
Active Pharmaceutical Ingredient (API), Data integrity, Drug Delivery Systems, Drug Manufacturing, Good Distribution Practice (GDP), Good Manufacturing Practice (GMP), Ingredients, Lab Equipment, Manufacturing, Packaging, Regulation & Legislation, Supply Chain, Technology
Related organisations