CEPI provides $30m to advance novel coronavirus vaccine
The Coalition for Epidemic Preparedness Innovations (CEPI) has partnered with a consortium of research and technological institutions to fund the development of a novel vaccine to provide protection against COVID-19, as well other SARS-like Betacoronaviruses.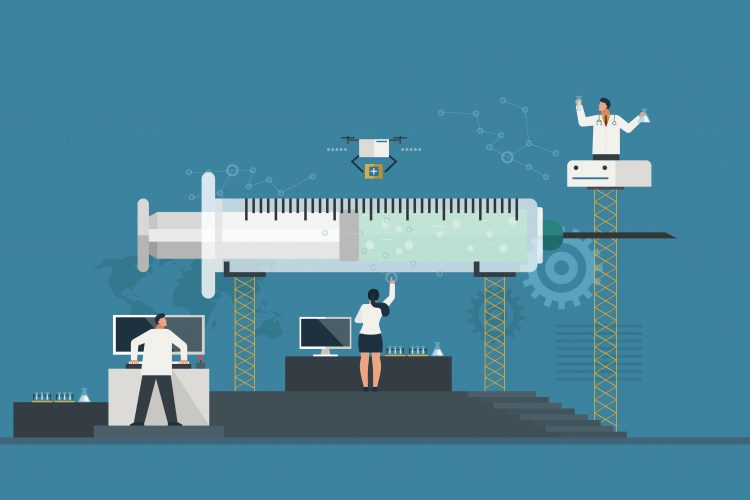 The novel coronavirus vaccine has been developed at Caltech and The University of Oxford. Funding of up to $30 million will support vaccine design, its development through Phase I trials and regulatory activities. 
Manufacturing efforts for the project will be led by the UK's Centre for Process Innovation (CPI) using microbes engineered by biotechnology Ingenza Ltd.
"The creation of vaccines that could provide broad protection against emerging COVID-19 variants and future coronavirus threats would not only help mitigate the damaging effects of another COVID-19-like pandemic, it could also help reduce the time taken and funding spent continually updating vaccine formulations," commented Dr Richard Hatchett, CEO of the Coalition for Epidemic Preparedness Innovations (CEPI).
The novel vaccine, which is based on mosaic‑8 vaccine technology, also has the potential to reduce the costs and supply chain complications associated with production of most vaccines. For example, the new vaccine eliminates the need for cold storage and specialist skills currently concentrated in few nations, increasing its accessibility. 
"CPI has been working together with these partners since mid-2020 to develop this type of vaccine to ensure it can be manufactured in the quantities and price range required to have a real impact everywhere," noted Kris Wadrop, CPI General Manager and the Project Lead. "Confirmation of this funding is a testament to the team's diligence and tenacity to highlight the potential offered by an RBD-nanoparticle vaccine." 
Dr Jack Tan, Senior Postdoctoral Scientist at the MRC Weatherall Institute of Molecular Medicine, University of Oxford, added: ​"We are delighted to be working with CEPI to further this nanoparticle technology with the goal of producing efficacious, low-cost, infrastructure-independent vaccine that will be accessible to low- and middle-income countries." 
How the novel coronavirus vaccine works
Many current COVID-19 vaccine candidates work by presenting fragments of the SARS-CoV‑2 spike (S) protein – the receptor-binding domain (RBD) – to the body to generate an immune response. (SARS-CoV‑2 is the virus that causes COVID-19.)
The novel vaccine is designed to focus the immune response on parts of RBD shared by all viruses in the Severe Acute Respiratory Syndrome (SARS)-like Betacoronavirus family. It does this by presenting S protein fragment RBDs from SARS-CoV‑2 together with RBDs from seven other different types of coronaviruses on protein nanoparticles termed ​"mosaic‑8" nanoparticles. 
These coronavirus RBDs are attached to a nanoparticle by protein tags, enabling the structure to display fragments from multiple viruses on a single nanoparticle. 
The innovative protein ​"glue" used as part of the vaccine to attach coronavirus fragments to the nanoparticle was developed from basic science studies of the pathogenic bacterium Streptococcus pyogenes by Professor Mark Howarth at University of Oxford. 
For manufacturing of the mosaic‑8 vaccine candidate, Ingenza will adapt its Pichia pastoris and Bacillus subtilis manufacturing platforms to prepare each component of this novel vaccine. 
"We are thrilled to be working with CEPI and our colleagues at Oxford, Ingenza, and CPI to move this vaccine candidate into the clinic," commented Dr Pamela Bjorkman, the Project Lead and David Baltimore Professor of Biology and Biological Engineering and Merkin Institute Professor at Caltech. "We are very encouraged by pre-clinical results assessing the mosaic RBD nanoparticle approach, which has demonstrated advantages over current vaccines and traditional single RBD nanoparticle vaccine candidates."
The pre-clinical research published in Science demonstrates that the mosaic‑8 nanoparticle vaccine technology elicits protective immune responses against SARS-like Betacoronaviruses with components displayed on the mosaic nanoparticle, as well as coronaviruses from which no components were displayed.
This suggests the novel vaccine technology may also provide protection against future SARS-CoV‑2 variants and as-yet-undiscovered coronaviruses that could transfer into the human population. 
Initial development and validation of the prototype mosaic‑8 vaccine approach was supported by Wellcome Leap and Caltech's Merkin Institute for Translational Research. 
Ensuring access to vaccines
CEPI is a leader in funding all-in-one coronavirus vaccine research, and to date has made eleven awards under its $200 million programme supporting projects that could provide broad protection against SARS-CoV‑2 variants and other Betacoronaviruses. The programme is part of a $3.5 billion 'pandemic preparedness plan' that seeks to reduce/eliminate the threat of future pandemics.
In May 2020, CEPI invested an additional $384 million to accelerate the development and manufacture of Novavax's NVX-CoV2373 vaccine.
Betacoronaviruses are types of coronavirus that cause SARS and Middle East Respiratory Syndrome (MERS), and have been responsible for major epidemics in Asia and the Middle East in recent years.
CEPI said it is committed to the principle of equitable access to the vaccines it funds.
Under the terms of this agreement, CEPI and its consortium partners – Caltech and The University of Oxford, CPI and Ingenza – have committed to achieving equitable access to the outputs of this project by way of pricing, volume commitments and potential deployment of the technology to low- and middle-income country manufacturers.