Microfluidic device detects bacteria concentration from small sample volumes
A novel ultrasonic nanosieve enabled concentration of bacteria into a 1µL highly concentrated solution suitable for plate counting and PCR, according to research.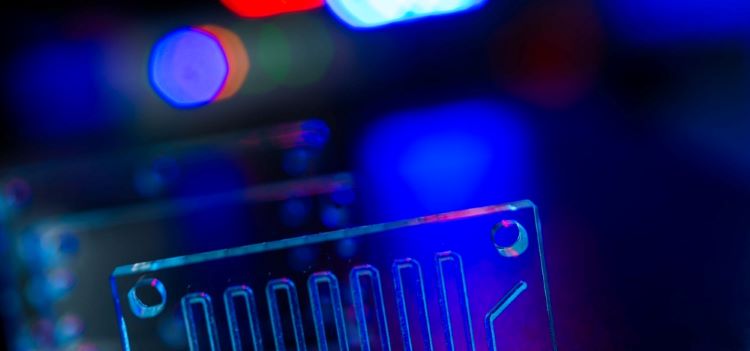 A study has shown an ultrasonic nanosieve within a microfluidic device concentrated and detected bacterial cells at low initial concentrations and small sample volumes for the first time.
The results demonstrated an efficiency of 99 percent bacterial capturing using the microfluidic device. Additionally, the data showed that the concentrated bacteria can be recovered with an 80 percent efficiency.
Standard methods like plate counting used to detect bacteria in samples where only small volumes and low concentrations are available, will result in a negative detection, unless additional enriching steps, such as culturing, are used.
As these methods can be time consuming, this may prevent their effective application to time sensitive situations, such as during quality control, the authors wrote.
Acoustofluidics using an ultrasonic nanosieve system
One solution is microfluidic concentration of bacterial cells, according to the paper published in Sensors and Actuators B: Chemical. This enables accurate detection and quantification in low abundance samples even when only small sample volumes are used.
Microfluidic biosensors have emerged as favourable candidates for rapid concentration and detection of bacteria due to their small size, high sensitivity, and low sample volume requirement.
While other popular enrichment strategies include electrophoretic and dielectrophoretic techniques, these are critically limited for live cells analysis.
Acoustofluidic approaches can manipulate particles and cells with a high degree of accuracy"
The research reported that an alternative and biocompatible method of external excitation of a microfluidic volume is acoustic actuation. Acoustofluidic approaches can manipulate particles and cells with a high degree of accuracy, the authors noted.
Ang et al. stated that recent works have demonstrated a sound wave activated nanosieve (SWANS) system that is capable of capturing exosomes and nanoparticles. Yet the volumetric flow rates achieved to date (only 0.1µL/min) are low. This is particularly an issue when preconcentrating samples with low initial concentrations of analyte.
Detecting bacteria concentration via a microfluidic device
To reduce analysis times of samples with low initial abundance and volume, methods that do not require culture-based enrichment have been developed.
The current research used the ultrasonic nanosieve system for the concentration of the bacterium Escherichia coli from low concentration samples (∼102 CFU/mL) and small sample volumes (10µL or less).
In the study, a packed bed of microparticles trapped in a microfluidic chip were activated with surface acoustic waves to periodically concentrate and detect bacteria from sample volumes below 10µL.
Four steps were required to operate the ultrasonic nanosieve for bacterial concentration:
Loading of microparticles
Introduction of stained bacterial cells
Ultrasonic capture of bacteria within the packed bed
Release of bacterial cells from the packed bed.
Results
The device enabled fluorescence detection of bacteria concentration of 4 × 105 CFU/mL in only 15 seconds. It achieved a limit of detection of 3.25 × 102 CFU/mL with just 32 min of ultrasonic actuation, requiring only 10 µL of sample.
Detection of higher concentrations (∼103 CFU/mL) could be achieved in just four minutes without any additional step and requiring only 1.2µL using this system.
The device offers a scalable, portable, and affordable method for the monitoring of low bacterial concentration using small sample volumes"
New electrodes were designed to increase efficiency and effectively triple the working flow rate, up to 0.3µL/min at a much lower power regime (over 10-fold decrease), while maintaining high capture efficiency of 99 percent.
The novel system enabled the concentration of bacteria into a 1µL highly concentrated solution that can be recovered and used for standard methods such as plate counting and polymerase chain reaction (PCR). It enabled a seven-fold sample enrichment starting from concentrations as low as 5.5 × 102 CFU/mL.
Ang et al. concluded that the results demonstrate using an ultrasonic nanosieve within a microfluidic device is suitable for early bacteria detection and "offers a scalable, portable, and affordable method for the monitoring of low bacterial concentration using small sample volumes."