Sandoz mobilises critical medicine production in Europe
Alongside its new biosimilar facility, Sandoz's new penicillin production process will help secure European-based antibiotic supply.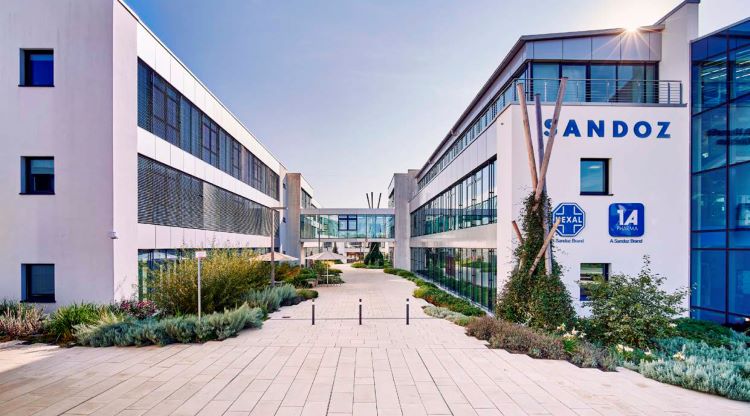 Credit: Sandoz. Image shows Sandoz's Biosimilar Development Center in Holzkirchen, Germany
Two new production facilities have opened in Europe, Sandoz announced on 10 November 2023. The €150 million facility in Kundl, Austria will produce the antibiotic penicillin, while the new €25 million facility in Holzkirchen, Germany will be Sandoz's new Biosimilar Development Center.
Launch of these new facilities help to ensure sustainable access to quality antibiotics and spearhead development of biosimilars, Sandoz noted.
[Sandoz] has the only major remaining vertically-integrated production network for penicillins in Europe"
Penicillins are the leading category of antibiotics worldwide, Sandoz highlighted. The company has the "only major remaining vertically-integrated production network for penicillins in Europe"; thus the new European facilities will play an important role in maintaining adequate supply of these medicines.
The new investments "strengthen our industrial presence in Europe [and] reinforce our commitment to environmental responsibility… the Kundl plant is a testament to the resilience of European manufacturing. The new development centre in Holzkirchen will become a global hub for biosimilar expertise," Richard Saynor, the company's Chief Executive Officer remarked.
Financial investment in the Kundl facility includes a €50 million contribution from the Austrian federal government. This represents a significant upgrade of penicillin active pharmaceutical ingredient (API) manufacturing, Sandoz declared.
Manufacturing developments for Sandoz – antibiotic and biosimilar medicines 
Earlier this month, Sandoz and Teva were the first companies to gain the new global Minimized Risk of Antimicrobial Resistance (AMR) certification. At the time of the announcement, Boumediene Soufi, Head of the Sandoz AMR Program declare: "This first-of-a-kind certification demonstrates that Sandoz… is taking the necessary steps to ensure responsible manufacturing of [generic antibiotic medicines] – a key pillar of the global AMR response strategy."
In July, Sandoz shared that it planned to invest approximately $90 million at its European site in Ljubljana, Slovenia, to establish a dedicated Sandoz Biopharma Development Center by 2026. The company stated that the new site will create approximately 200 new full-time jobs once the facility is opened.