Roche delivers solid sales growth for the first nine months of 2014
Roche announce Q3 2014 results…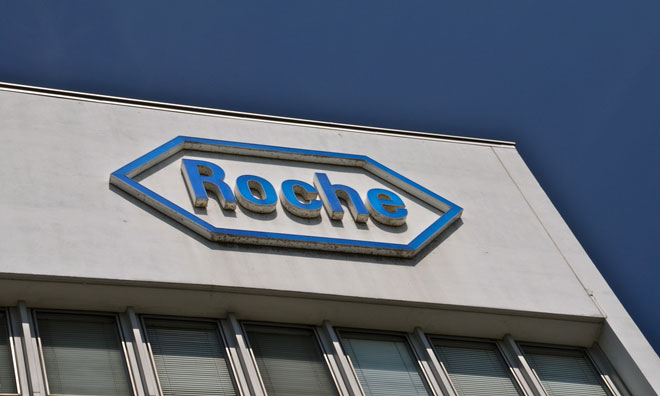 Commenting on the nine month results, Roche CEO Severin Schwan said: "Demand for our products is strong in both divisions and we are well on track to reach our full-year targets. We have had positive news from our product pipeline, including study results for Perjeta in breast cancer and a new combination therapy with Zelboraf in melanoma. The InterMune acquisition has also strengthened our portfolio with a new medicine, Esbriet for idiopathic pulmonary fibrosis, which has now been approved by the FDA. In Diagnostics, growth continues to be driven by the immunodiagnostics business and we have strengthened our molecular diagnostics portfolio with a new generation of testing systems." 
Group nine months overview
Group sales were 34.8 billion Swiss francs, 5% higher at constant exchange rates and stable in Swiss francs for the nine months ended 30 September 2014. A number of currencies remained weaker against the Swiss franc throughout the year, most notably the US dollar, as well as all Latin American currencies and the Japanese yen.
Both divisions saw good sales growth for the nine months, with Pharmaceuticals up 4% and Diagnostics up 6%. Growth in the Pharmaceuticals Division was driven by the oncology portfolio, in particular the medicines for HER2-positive breast cancer, Herceptin, Perjeta and Kadcyla, whilst growth in Diagnostics mainly stemmed from a continued strong performance in Professional Diagnostics.
Recent highlights included new approvals for Avastin in cervical cancer in the United States and platinum-resistant ovarian cancer in Europe, and of Gazyvaro in Europe for chronic lymphocytic leukemia. In Diagnostics, the cobas 6800 and cobas 8800 integrated laboratory testing instruments were launched. The Diagnostics division also launched a global access programme for HIV viral load testing in resource constrained countries, in partnership with a number of organisations, including UNAIDS, the Clinton Access Initiative and the President's Emergency Plan for AIDS relief. Another achievement was Roche being named the Group Leader for the Pharmaceuticals, Biotechnology and Life Sciences Industry in the Dow Jones Sustainability Indices for the sixth year running.
Acquisition of InterMune 
The acquisition of InterMune was completed in September, adding a new medicine for idiopathic pulmonary fibrosis, Esbriet which was approved by the FDA in October 2014. Idiopathic pulmonary fibrosis is a progressive disease, which causes scarring of the lungs and has a survival rate of 2 to 3 years from diagnosis. Esbriet has the potential to make a considerable difference to the treatment of patients with this debilitating disease. Roche has successfully issued bonds to the value of 5.75 billion US dollars to finance the transaction. 
Pipeline update
At the European Society for Medical Oncology (ESMO) annual congress in September, Roche presented final overall survival data from the Phase III CLEOPATRA study of Perjeta in HER2-positive metastatic breast cancer. The results showed that in combination with Herceptin and chemotherapy, Perjeta extended overall survival by 15.7 months, compared with Herceptin and chemotherapy alone. Results of the Phase III coBRIM study, testing the combination of Zelboraf and the Roche investigational MEK inhibitor, cobimetinib, in patients with malignant melanoma were also presented. The data showed that treatment with the combination halved the risk of the disease worsening. Other highlights at ESMO included encouraging data from early phase trials of an investigational cancer immunotherapy medicine, anti-PDL1 (MPDL3280A) in bladder cancer, a disease for which the drug has received FDA Breakthrough Therapy Designation. There was also positive early data for anti-PDL1 in combination with Avastin in renal cell carcinoma and other solid tumours. Cancer immunotherapy is a new approach that aims to enable the body's immune system to fight cancer. 
Other positive pipeline news came in two Phase III studies (IMELDA and TANIA) for Avastin in treatment for HER2-negative breast cancer, the most common form of breast cancer, showing significant improvements in progression-free survival. Phase III trials for lampalizumab, the first potential treatment for geographic atrophy, were initiated in September. Geographic atrophy is an advanced form of age-related macular degeneration, a progressive condition that can lead to blindness. In Japan, Alecensa (alectinib) was approved for the treatment of ALK-positive non-small cell lung cancer in July, based on the results of a Japanese trial. The FDA has granted Breakthrough Therapy Designation for alectinib and global studies are ongoing.
Full-year outlook confirmed
For the full year 2014, Roche expects low- to mid-single digit growth in Group sales at constant exchange rates. Core EPS is targeted to grow ahead of sales. Roche expects to further increase its dividend. 
Related topics
Related organisations
Related people