Rainin TerraRack™ wins Green Apple Environment Award
METTLER TOLEDO is proud to announce that its Rainin TerraRack™ line of pipette tip racks has achieved success in this year's Green Apple Awards…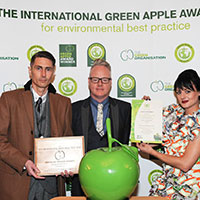 METTLER TOLEDO is proud to announce that its Rainin TerraRack™ line of pipette tip racks has achieved success in this year's Green Apple Awards.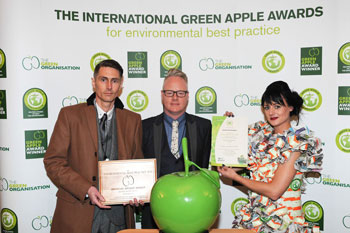 The judges clearly recognised the environmental benefits of this innovative product range – which is designed to minimise the problem of plastic tip rack waste – selecting TerraRack from a field of more than 500 entries to receive a Bronze Award for Environmental Best Practice. The award was presented to EU Market Manager Ian Eaton-Taylor at a ceremony held at the Houses of Parliament in London on Monday November 16th.
Empty conventional tip racks can take up a large amount of space and represent a significant quantity of plastic waste. Where disposal rates are based on weight, they're also a considerable expense. TerraRacks are composed largely of PETE (polyethylene terephthalate) – an exceptionally strong polyester never previously used to construct pipette tips racks – which is easy to recycle and in high demand as a post-waste commodity. They are 50 % lighter than conventional tip racks, highly compressible when empty, and completely recyclable, significantly reducing their volume and disposal costs. The TerraRack shell is moulded as a single unit which a polypropylene tip deck snaps into, providing structural support with minimal weight. Every rack is presterilised, individually wrapped and sealed for maximum purity, and the hinged lid and secure latch protect tips from damage and potential contamination between uses. For a weightier, more conventional tip rack feel, an optional re-useable TerraBase – made from autoclavable, chemically resistant translucent polycarbonate and with silicone feet – is available.
Related topics
Related organisations