Tecan simplifies large molecule bioanalysis
Tecan has launched a fully automated affinity purification solution for the extraction of large biomolecules, such as proteins, antibodies and antibody-drug conjugates. This set-up takes advantage of the new Thermo Scientific™ MSIA™ Streptavidin EVO microcolumns, which have been specifically designed for use on Tecan's proven Freedom EVO® platform. In combination with the Freedom EVO workstation, this solution is ideal for high throughput applications in biopharmaceutical development, clinical research and anti-doping laboratories.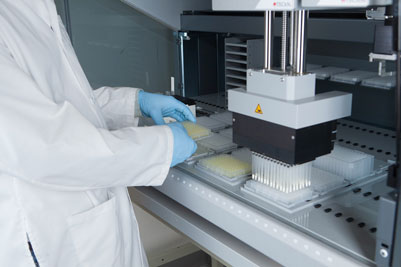 Housed within a pipette tip, the proprietary MSIA microcolumns are densely coated with streptavidin for affinity purification using any biotinylated ligand, even at low concentrations. Compared to traditional resin- and bead-based methods, this new approach offers improved analytical sensitivity and lower background noise, while the automated workflow enables easier method standardization and transfer between labs. This allows multi-analyte characterization over a wide dynamic range of three orders of magnitude, while maintaining good reproducibility of <5 %CV*.
Preeti Saini, Product Manager for MSIA liquid handling consumables at Thermo Fisher Scientific, commented: "This new offering is an ideal solution for biologics and biosimilars discovery and development, and it is particularly well suited to sports anti-doping and other fields where laboratories perform large molecule bioanalyses that demand high quality, reproducible and unambiguous results with minimal background noise. Moreover, this solution is designed to help scientists save both precious samples and time."
"Our combined solution will provide these laboratories with faster assay development, scalable sample turnover and surety of data quality and consistency," added Rohit Shroff, Product Manager for Tecan. "By combining our well-established Freedom EVO workstations with MSIA technology, we can better cater to the high volume bioanalytical research market."
For more information on the MSIA technology and how MSIA workflow solutions enable highly reproducible and sensitive testing of large biomolecule analysis, visit https://www.thermoscientific.com/en/products/mass-spectrometric-immunoassay.html
For more information on Tecan's robotic liquid handling solutions for sample preparation, please visit www.tecan.com/analyticalchemistry
* Antwi et al. A universal LB-MSIA workflow using Freedom EVO platform for the preclinical analysis of therapeutic antibodies of differing allotypes in rodent plasma. 2015, Thermo Fisher Scientific.
Related topics
Related organisations