New technique for fast low-level polymorph API quantification using non-destructive transmission Raman spectroscopy
A new technique for measuring low-levels of crystalline polymorphic materials offers many advantages over industry standard techniques….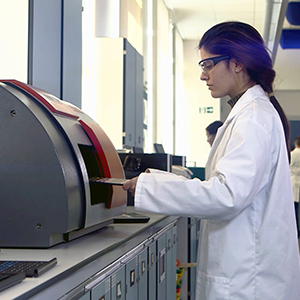 A new technique for measuring low-levels of crystalline polymorphic materials offers many advantages over industry standard techniques. Two recent papers describe the use of Cobalt's TRS100™ instrument for fast, low level quantification of API polymorphs (and excipients) in tablets.
The latest paper shows sub-second measurements of intact tablets, which contrasts with the hours required using competing X-ray or NMR techniques. This makes transmission Raman spectroscopy (TRS) a suitable technology for both formulation development and final dosage form testing in pharmaceutical manufacturing.
Published in the Journal of Pharmaceutical and Biomedical Analysis, the latest paper describes quantification of exceptionally low levels (0.62-1.32% w/w) of an API's polymorphic forms in a typical pharmaceutical formulation. Measurement times <0.2 seconds were achievable using Cobalt's Beam Enhancer™ technology.
Accurate quantification of polymorphic forms is essential for Pharmaceutical companies looking to protect their novel drugs – different polymorphs may have different patent protection. Increasingly, new APIs are formulated to have no polymorphic form – known as an amorphous API – to increase the drug's solubility and therefore patient efficacy. Having a means to detect small amounts of polymorphs in intact tablets is extremely useful for final dosage form quality testing, stability testing and in monitoring intellectual property rights.
Existing technologies for polymorph quantification include powder X-ray diffraction (pXRD) and solid-state nuclear magnetic resonance (ssNMR). Compared to transmission Raman, both XRD and ssNMR require destructive sample preparation, which can mechanically change the polymorph content, have significantly longer data acquisition times and the costs per test are much higher. Powder XRD has a significantly poorer limit of detection and ssNMR, which can require a full day of measurement time, is comparable in sensitivity but significantly more expensive.
This work comes soon after another recent publication, published by Genentech, Inc. and Cobalt Light Systems in American Pharmaceutical Review, which describes the use of TRS for fast, non-destructive detection of low level crystalline forms in amorphous spray dispersion (read more).
Pharmaceutical manufacturers are increasingly using Cobalt's TRS100 system for polymorph quantification and content uniformity testing of tablets and capsules in R&D and production environments. TRS is attractive because of the benefits it offers in speed of measurement, robustness to sample presentation, lack of preparation time, avoidance of solvents/consumables and the significant cost that can be saved per batch test.
These papers are part of a series of recent news items and publications featuring TRS and Cobalt's TRS100 system:
Cobalt hosted the world's first international pharmaceutical seminar on transmission Raman at the University of Oxford in December 2015. The seminar featured presentations from experienced TRS users at Actavis, Bristol-Myers Squibb, Janssen, GSK and AbbVie, with a regulatory perspective presented by the UK's Medical and Healthcare products Regulatory Agency (MHRA) – Videos of the keynote presentations are available to watch on demand
The July 2015 edition of European Pharmaceutical Review featured an article from Actavis UK describing their regulatory approval process for content uniformity testing using transmission Raman spectroscopy and the TRS100 – read more
A Cobalt paper published in the Journal of Pharmaceutical and Biomedical Analysis described – for the first time – comprehensive quantification of tablets with multiple active pharmaceutical ingredients using transmission Raman spectroscopy – read more
Related topics
Related organisations