Novartis' plaque psoriasis drug keeps skin clear 4 years post treatment
The aim of Novartis' plaque psoriasis treatment is clear skin and was achieved by 68.5% of patients at Year 1 and this high rate was maintained to Year 4…
The aim of Novartis' plaque psoriasis treatment is clear skin and was achieved by 68.5% of patients at Year 1 and this high rate was maintained to Year 4 (66.4%), measured by the Psoriasis Area Severity Index (PASI).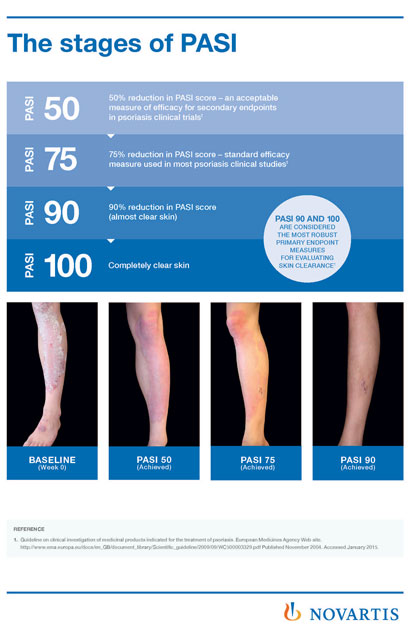 In addition, 43.8% of psoriasis patients achieved completely clear skin (PASI 100) at Year 1 and this rate (43.5%) was maintained to Year 4. The average improvement of psoriasis as measured by the PASI score was maintained at over 90% after 4 years of treatment.
The standard goal of treatment, PASI 75 response, was achieved by 88.5% of patients at Year 4. In this long-term study, cosentyx continues to have a favourable safety profile, which was consistent with that demonstrated in previous Phase III studies.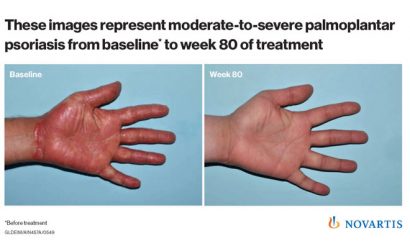 Results demonstrating the longer-term efficacy (1.5 years) of the drug in treating psoriasis of the hands and feet (palmoplantar), which are considered difficult areas to treat on the body, showed 60% of patients achieved clear or almost clear palms and soles with cosentyx, which continued to improve over 1.5 years.
About cosentyx and interleukin-17A (IL-17A)
Cosentyx is a fully human monoclonal antibody that selectively neutralizes IL-17A. Research suggests that IL-17A may play an important role in driving the body's immune response in psoriasis, ankylosing spondylitis (AS) and psoriatic arthritis (PsA).
It is approved in more than 65 countries for the treatment of moderate-to-severe plaque psoriasis which includes the EU countries, Japan, Switzerland, Australia, the US and Canada. In Europe, Cosentyx is approved for the first-line systemic treatment of moderate-to-severe plaque psoriasis in adult patients.
More than 10,000 patients have been treated with cosentyx in clinical trial settings across multiple indications, and over 50,000 patients have been treated in the post-marketing setting.
The 4 year cosentyx efficacy study (A2304E1)
A2304E1 is a 4 year extension to the Phase III SCULPTURE study, in which PASI 75 responders at week 12 were randomised to double-blind maintenance treatment of cosentyx 300 mg or 150 mg, given either at a 4-week fixed-interval regimen or in a retreatment-as-needed regimen. This same treatment regimen was applied for the 642 patients who completed the 52 weeks of treatment and then continued into the extension.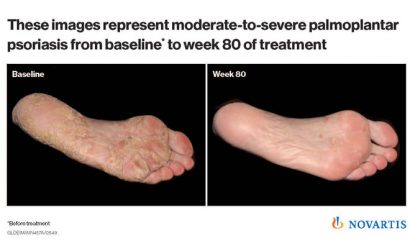 The primary objective of this extension study was to assess the long-term safety and tolerability of cosentyx in patients with moderate-to-severe plaque psoriasis. Efficacy measures included proportion of patients achieving PASI 75, PASI 90 and PASI 100.
About psoriasis
Psoriasis is a common, non-contagious, autoimmune disease that affects up to 3% of the world's population. Plaque psoriasis is the most common form of the disease and appears as raised, red patches covered with a silvery white build-up of dead skin cells. Palmoplantar psoriasis, psoriasis involvement of the palms and soles, occurs in up to 40% of plaque psoriasis patients.
"These impressive results show that Cosentyx keeps working year-on-year, maintaining high levels of skin clearance with a favourable safety profile," said Vasant Narasimhan, Global Head Drug Development and CMO of Novartis. "Psoriasis patients need therapies they can use over long periods of time without loss of efficacy."