ROMIL Hi-Dry® – anhydrous solvents you can depend on
ROMIL's Hi-Dry® anhydrous solvents take the high purity concept of ROMIL-SpS™ Super Purity Solvents one step further…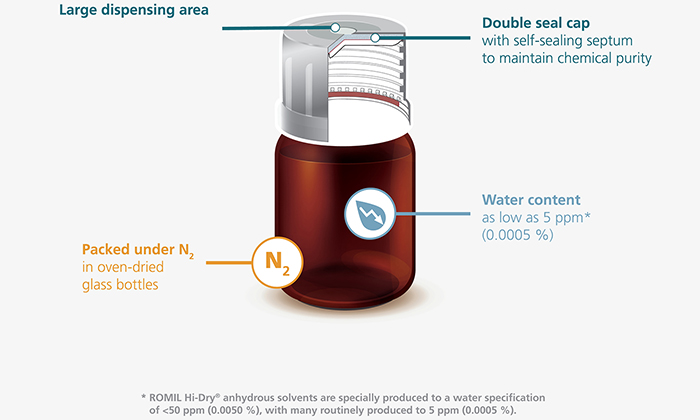 This exceptional range of solvents delivers extremely low water levels of 50 ppm (0.0050 %) or less, with many products routinely manufactured to below 5 ppm (0.0005 %), using coulometric Karl Fischer analysis to ensure specifications are met.
All ROMIL Hi-Dry® solvents are supplied in packaging designed to maintain the anhydrous state achieved during purification. The amber glass bottles are oven dried to remove all traces of moisture before filling under inert dry nitrogen and sealing with a tamper-evident, screw-on Hi­Dry® cap. The cap's double seal design features a PTFE wad and self-sealing septum, helping to maintain chemical purity while enabling solvent to be withdrawn by syringe via the dispensing hole, which has been enlarged in response to customer feedback. 
The standard ROMIL Hi-Dry® range of solvents is complemented by pyridine-free ROMIL Hi-Dry® KF reagents and calibrants, enabling Karl Fischer determination of water content without the accompanying hazard and unpleasant odour associated with traditional reagent formulations. Certified reference materials manufactured using Hi-Dry® anhydrous solvents are also available for calibration of volumetric Karl Fischer reagents prior to use.
Discover the world of ROMIL for yourself at www.romil.com  
When it works well, it's pure chemistry. And when it's pure chemistry, it's ROMIL.
Related topics
Related organisations