Discover Precision: A&D is taking weighing precision and protection to new heights with the new Apollo Balance Series By offering an innovation trifecta: electronically controlled load (ECL), impact shock detection (ISD), and flow rate display (FRD)
ORLANDO –  28 February, 2018 – For attendees at this year's Pittcon show, A&D Weighing is premiering its newest lines of multi-functional balances. The first models to be released in the Apollo series are the GX-A/GF-A Precision models and contain three key innovations to provide ideal weighing results – even under the most challenging lab or production settings…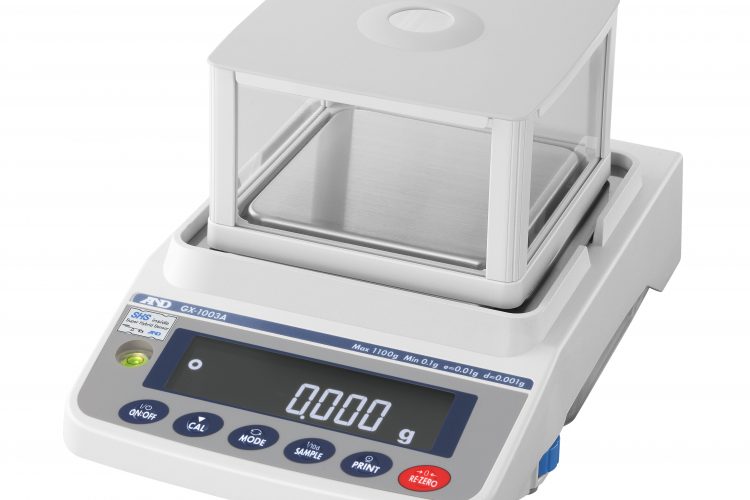 To address the changing demands of production and laboratory settings, the innovations used in the Apollo series will help users gain better precision and protection when weighing sensitive materials in high-risk environments or weighing with automated devices.
Enabled by the company's Smart Super Hybrid Sensor (SHS) technology, the three new innovative features from A&D include: Impact Shock Detection (ISD), Electronically Controlled Load (ECL) and Flow Rate Display (FRD).
"In keeping with A&D's commitment to innovation, the new combination of features in our Apollo series enhances accuracy and precision, reduces the amount of rework required and lowers overall costs," said Terry Duesterhoeft, President and CEO of A&D – Americas. "This provides a weighing solution which truly supports lab and production operators as they strive for greater workplace efficiency in their competitive professional environments."
Electronically Controlled Load (ECL)
The Apollo series features a patent-pending ECL technology that artificially generates, a less-than two-minute load between 0.3 percent to 3percent of the weighing capacity, by altering the equilibrium state of the weigh sensor ten times. This allows the user to perform a repeatability test without the need of an external test weight, eliminating the operator errors and inherent uncertainties external test weights can have. In addition, Apollo can determine the minimum sample weight, and allows users and service technicians to ensure operations are USP compliant.
"The ECL feature of the Apollo series addresses the real-world problem of determining the precision of a balance without having to spend an exorbitant amount of time or money," said Jennifer Block, Product Manager for A&D Weighing. "This provides a revolutionary diagnostic tool which ensures critical measurements are compliant with industry standards such as USP 41 and 1251. The ECL feature does this in a manner that is flexible and adaptable to meet SOP frequency demanded of risky or sensitive materials or method, and does so at the single touch of a button, is completed within minutes, in extreme environments."
 Impact Shock Detection (ISD)
The patented ISD function from A&D Weighing on the Apollo series displays the magnitude of impact shocks to the weight sensor at four levels, with audible notification for higher levels of impact which should be avoided, a function called Impact-Alert. The ISD feature also documents impacts via the Shock-log that records time, date, shock level and operator ID, making quality control easier to pinpoint.
"The new impact shock detection feature is important when transverse and vertical environment forces are non-predictable. This real-time feedback mechanism prevents damage, and helps managers to train and modify in-line or manual processes alike," said Mrs. Block. "The ISD on this series addresses that issue for workers in lab or production environments, and provides them with the information they need to avoid repetitive impacts."
Flow Rate Display (FRD)
To avoid irregularity that can arise in traditional filling and dosing applications, the Apollo series features an FRD function. The FR-Calc function calculates and displays the mass or volume flow rates to close the "time-clock disparity" found with traditional PC methods. The series also features an FR-comparator, which allows monitoring of flow rate data to ensure it is kept within designated limits. Additionally, the tare value can be saved in non-volatile memory so that the remaining amount of the material in the container can be displayed again, even if power is disrupted for any reason during loss-in-weighing measurement.
Premiered at Pittcon 2018, the new Apollo series just won the renowned Outstanding New Product award (Kardux Cup) at 2018 International Society of Weighing and Measurement (ISWM) conference and expo.
The series will be available for purchase in early April 2018 from A&D Weighing.