Combining drugs that target BRAF and HSP90 shows success for melanoma patients
Scientists have tried combining drugs in an effort to prevent resistance development that eventually leads to cancer regrowth in melanoma patients.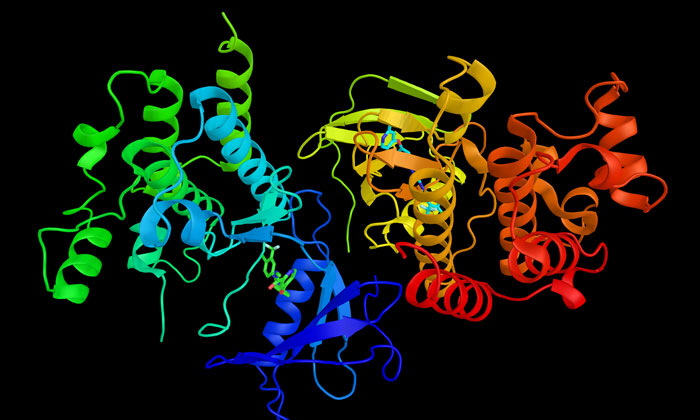 Patients with advanced or metastatic melanoma have been able to live longer cancer-free lives due to several new therapies that have been approved over the last decade, such as BRAF and MEK inhibitors. However, despite the success of these targeted agents, most patients eventually develop drug resistance resulting in cancer regrowth.
A team of researchers at Moffitt Cancer Center has been working to learn more about how melanoma becomes resistant to BRAF inhibitors in order to develop new treatment strategies. They tested whether a drug targeting heat shock protein 90 (HSP90) combined with the BRAF inhibitor vemurafenib could be a safe and effective strategy to treat patients with melanoma.
The BRAF gene encodes a protein that is an important regulator of cell survival and growth, and therefore a potential target for controlling tumours. Approximately half of all melanoma patients have a mutation in the BRAF gene. Two drugs that target mutant BRAF, vemurafenib and dabrafenib, are approved to treat patients who have BRAF-mutated melanoma that cannot be removed by surgery or that has spread to other sites. These drugs improve the survival of melanoma patients and are often used in combination with MEK inhibitors; however, eventual drug resistance is very common.
Moffitt researchers previously published a preclinical study showing that the HSP90 inhibitor XL888 overcomes resistance to vemurafenib in melanoma cells. The team took this information from cell culture and mouse studies and translated it into a phase 1 clinical trial to assess XL888 combined with vemurafenib in melanoma patients and determine the optimum dose.
Study included melanoma with BRAF mutations
The researchers treated 21 patients with unresectable or metastatic melanoma and BRAF mutations with increasing doses of XL888 combined with vemurafenib. They reported that of 20 evaluable patients, 15 (75%) had a response to the combination treatment, including three complete responses and 12 partial responses. The patients survived for a median of 9.2 months without developing progressive disease and had a median overall survival of 34.6 months.
The combination of XL888 and vemurafenib resulted in manageable toxicities. The most common high-grade adverse events were diarrhoea, headache, fatigue, and skin toxicities, such as rash and new cases of skin cancer that were easily treated or removed. Six patients experienced vision problems while being treated with XL888 and vemurafenib, but these were resolved after drug administration was interrupted or stopped.
The researchers also discovered that the XL888 and vemurafenib combination was able to alter the expression patterns of many proteins that are regulated by HSP90, suggesting that the treatment was working the way it was intended to in patients.
"Our trial results are encouraging, but we need to perform additional studies to assess the benefit of adding XL888 to the BRAF and MEK inhibitor combination and to clarify the biomarker changes that occur following HSP90 inhibition," said Keiran S. Smalley, Ph.D., director of the Donald A. Adam Melanoma and Skin Cancer Center of Excellence at Moffitt.