Thermo Fisher Scientific launches new LIMS for clinical laboratories at AACC 2011
Thermo Fisher Scientific Inc., the world leader in serving science, today announced the launch of a new informatics solution to support clinical laboratories serving the emerging fields of translational and personalized medicine.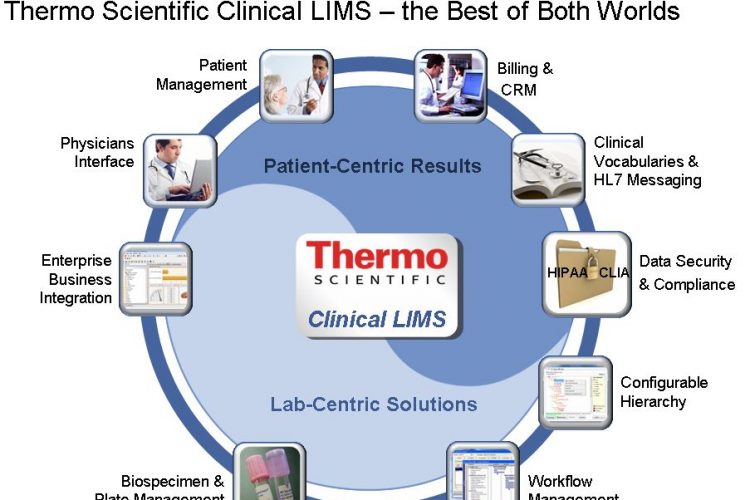 Thermo Scientific Clinical LIMS is a fully functional data and sample management system
Thermo Scientific Clinical LIMS (laboratory information management system) is a fully functional data and sample management system that is designed to improve the management of laboratory workflow and drive a clinical lab's processes while enabling bi-directional communication between physicians and the lab. Thermo Scientific Clinical LIMS delivers the end-to-end laboratory data and patient data management functionality needed by scientists and technicians involved in clinical and molecular diagnostics and related research. The new Clinical LIMS is an important addition to the Thermo Fisher Scientific portfolio of products that support laboratories in their efforts to deliver advanced testing capabilities to hospitals and clinicians, and enables an end-to-end solution that supports labs from sample preparation to final patient results. The company will showcase the products at Thermo Scientific booth #1720 during Clinical Lab Expo at AACC 2011, being held July 26 – July 28, at the Georgia World Congress Center, Atlanta, Georgia.
By bringing together the sample-centric core functionality of a LIMS with the patient-centric compliant functionality of a traditional LIS (laboratory information system), Thermo Scientific Clinical LIMS supports the delivery of a streamlined and automated information flow following the patient from point-of-care to molecular testing and results analysis, diagnosis and treatment.
Thermo Scientific Clinical LIMS provides healthcare professionals with easier accessibility to test data originating in the clinical diagnostics testing laboratory. Clinical lab technicians will also appreciate that the Clinical LIMS facilitates compliance with all industry regulations related to patient privacy, such as the Health Insurance Portability and Accountability Act (HIPAA) and those related to clinical testing such as Clinical Laboratory Improvement Amendments (CLIA). Thermo Scientific Clinical LIMS also supports the most widely used ANSI-accredited standard for interoperability of health information technology (Health Level 7 Messaging – HL7) and is designed to enable laboratories to operate in compliance with applicable regulatory requirements.
Thermo Scientific Clinical LIMS is being used by Cambridge, Massachusetts-based Foundation Medicine, Inc., a cancer diagnostics company that aims to bring comprehensive cancer genome analysis to routine care.
Foundation Medicine is using next-generation sequencing as a platform for its cancer diagnostic test. Test results will be reported within the context of publicly available scientific and medical literature and clinical trials to provide a decision-making tool to help guide therapeutic decision making.
"Foundation Medicine's test captures relevant, actionable genomic information from the small amount of tumor tissue present in routine cancer specimens with one comprehensive test. This information will enable treating physicians to specifically target the molecular subtype of each patient's cancer. The information technology necessary to do this must be able to manage and enable a convergence of lab sample tracking data, protected personal information and a custom high-performance analysis pipeline specific to our product offering. We selected Thermo Fisher's new LIS solution because we are confident it will meet this challenge," stated Michael Pellini, M.D, president and CEO, Foundation Medicine, Inc.
"Thermo Scientific Clinical LIMS fills a critical need in the field of personalized medicine which supports the rapid delivery of results from the lab directly to the patient's bedside," said Dave Champagne, vice president and general manager for Informatics at Thermo Fisher Scientific. "This highly configurable system can be customized to accommodate a wide variety of laboratory workflow models. The Clinical LIMS is a complementary product to the clinical and diagnostics solutions offered by Thermo Fisher and is a vital part of a clinical workflow. The ultimate benefit is that this new technology can enhance a physician's ability to deliver truly personalized care."
For more information about Thermo Scientific LIS, please visit Thermo Scientific booth #1720 during AACC 2011. Alternatively, please call +1 866-463-6522 (US), +44 161 942 3000 (Intl), e-mail [email protected] or visit www.thermoscientific.com/informatics.
Related topics
Related organisations
Related people