Designing an ATMP manufacturing facility: from concept to completion
Remy Martin, business development specialist at cell and gene therapy manufacturing consultant, eXmoor Pharma, discusses 10 key considerations when creating a manufacturing facility, to ensure it meets requirements for both immediate needs and future growth.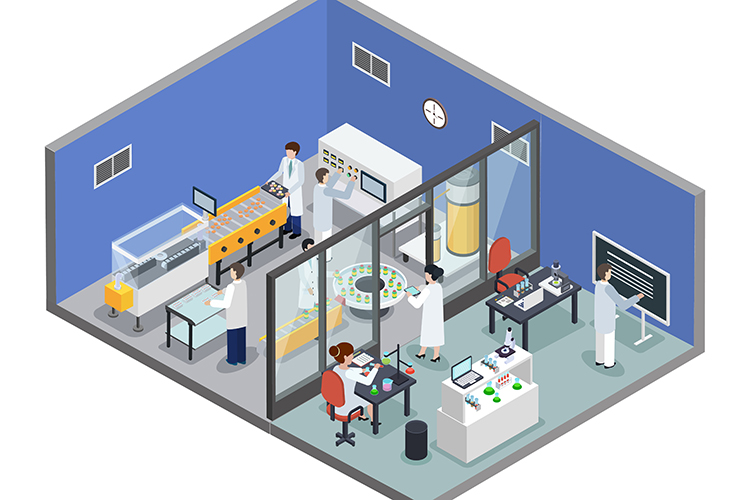 NEW ADVANCED therapy medicinal product (ATMP) manufacturing facilities represent significant capital investment. By taking an approach that addresses a facility's production and output obligations, stakeholders can make informed decisions that will lead to a successful construction and long-term operation.
The following aspects should be assessed before a site is agreed, to reinforce the project's long‑term success. While many of these are concurrent considerations, often one or more go under‑scrutinised during the planning process.
Considerations of area and capacity
The prospective site area should not merely be of suitable size for the manufacturing site, warehouse and laboratories; it is imperative to be forward thinking, considering office space, meeting rooms, reception areas and any other rooms or buildings that may be required. Examining all planned facility projects will give a good indication of the capacity required at the new site.
Allowances for air circulation spaces
In accordance with regulatory guidance, six to eight metres of space is required above the cleanrooms to include a walk-on ceiling, which will permit these areas to be serviced from the outside. Space will also need to be made available for suitable heating, ventilation and air conditioning (HVAC) throughout the manufacturing and office areas. If the selected building has sufficient height, the HVAC units could also be located above the cleanrooms themselves.
Vertical distribution
Isolated lifts must be included for the movement and distribution of supply materials, waste and the produced goods. The number of lifts will depend on the layout of the prospective building. An additional large goods lift must be installed to allow for the vertical transportation of motors and spares to the plantroom (should this be required). As mentioned earlier, a walk-on ceiling must be included above the cleanrooms to allow for servicing. Finally, you should allow for door heights of a minimum of 2.7 metres to enable free movement of large pieces of equipment throughout the key areas of the facility.
Flows
In the planning phase, it is important to evaluate whether there is a suitable flow and segregation of personnel, materials and waste. It is also vital to consider the number of lifts and required external docking stations.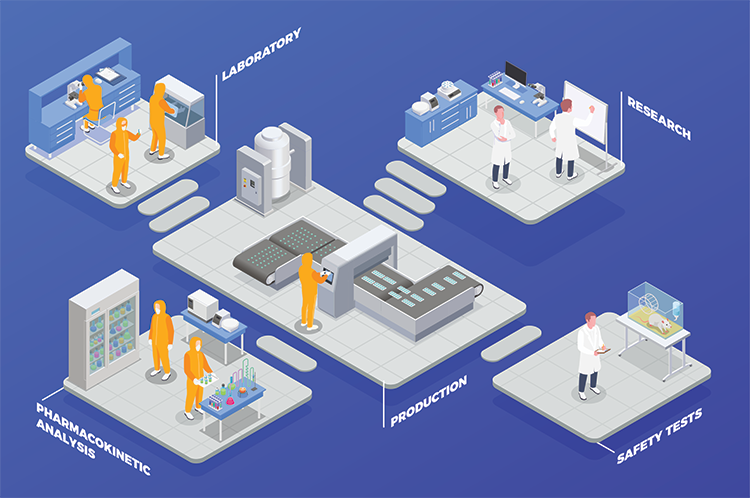 Co-occupancy and access
Ideally, the site of choice should be single occupancy. Incoming or outgoing routes should not be shared with any other occupants. It should not be possible to mix materials, personnel, or waste routes within the facility. Unauthorised personnel should not be able to obtain access to the facility via stairwells or lifts.
Utilities
The following raw utility services will need to be supplied as standard to the facility: mains pressure water, both surface and foul drainage, natural gas (should this be required) and electrical power. Further consideration should be made, depending on the facility's manufacturing process, for a second tier of utilities: water for injection, de-ionised water supply, pure steam, plant steam, process chilled water, clean-in-place (CIP) procedures and HVAC units to service cleanrooms.
Site and locality
Enough space should be allocated to avoid any margin for errors or cross contamination during quality checking and testing"
It is important to ensure there is sufficient space on-site for the following additional items: chiller compound, waste compound, gases and a dedicated liquid nitrogen (LN2) area. The generator compound must also be of sufficient size. Careful consideration on locality should be analysed and proximity to the following should be avoided during the planning phase: areas of standing water or falls in an area with a high flood risk, heavily polluted industrial air exhausts, and nearby large-scale construction sites. On principle, the manufacturing area should be at least one metre above the ground floor of the building.
Location
The location of a manufacturing facility is a crucial decision. It should be close to public transport links, amenities and in a safe working area. As first impressions are always important, the buildings and larger site should be smart and well maintained, portraying a professional and high‑quality image of the business.
Structural and loading requirements
In the manufacturing area there will be several large items of equipment that will impose a significant live loading on the floor. Therefore, there are minimum loading requirements in the office and general areas. The minimum requirement for live floor loadings is 2.5 kN/m2 above ground floor and 3.0 kN/m2 at ground level. In the manufacturing and plant areas, live loads need to be in accordance with the minimum standard (BS EN 1991-1-1:2002) of 7.5 kN/m2, ideally 10.0 kN/m2 to allow for a 1,000kg pallet (8.2 kN/m2).
Inventory and support areas
In warehouse areas, storage should be of sufficient capacity to allow various categories of materials and products to be stored in an orderly manner. Enough space should be allocated to avoid any margin for errors or cross contamination during quality checking and testing. As such, quality control laboratories should be kept separate from the production areas; rest and refreshment rooms should be kept separate from production, storage and quality control areas; and toilets and washrooms should not directly link with any production, storage, or quality control areas. Ensuring these factors are accounted for during the planning stage will pay dividends in the final facility.
About the author
Remy Martin is Operations Director at eXmoor Pharma Concepts Ltd. He has a PhD in Biochemistry, MBiol Molecular & Cellular Biology. Remy is a skilled business development specialist, with experience gained both in commercial and research environments. He has an extensive knowledge of cell culture, advanced therapies, bioprocessing, process control and upstream process development, which he utilises across a variety of interesting and innovative projects.
Issue
Related organisations