The weakest link – biopharma workforce development
Killian O'Driscoll, Director of Projects at the National Institute for Bioprocessing Research and Training (NIBRT), highlights the plight of a future skills shortage in the global biopharma industry as state-of-the-art therapy production evolves at a rapid pace.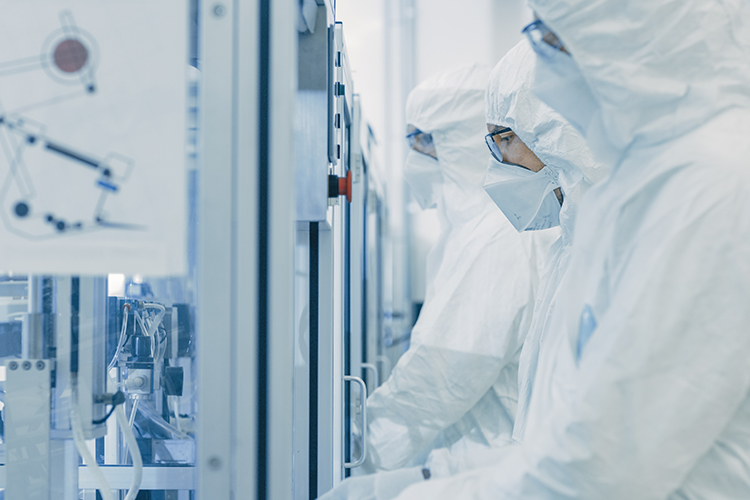 A KEY PRINCIPLE in Annex 1 of the Rules Governing Medicinal Products in the European Union (Manufacture of Sterile Medicinal Products) states "…Much depends on the skills, training and attitudes of the personnel involved…". However, the demand for biopharma talent has never been more acute – posing a threat to the robustness of global supply chains.
Global skill shortage in biopharma
In 2021, the Financial Times worked with the technology and service provider Cytiva to publish the inaugural Global Biopharma Resilience Index.1 Based on data from a survey of 1,165 pharma and biopharma executives and healthcare policymakers from 20 countries, the index scores and ranks 20 countries on key factors to assess the resilience of the biopharma sector. The index showed that biopharma is underperforming across five critical areas; namely:
Access to talent
Quality and agility of manufacturing processes
Strength of the R&D ecosystem
Supply chain resilience
Effectiveness of government policy in supporting the industry.
In particular, access to talent was identified as the primary weakness in the resilience of the global biopharma industry. Twenty five percent of respondents indicated that the sourcing of talent is a substantial or very substantial challenge and 50 percent said that the cost of talent has become a key issue. This finding has been further substantiated for particular geographies by a series of reports from a wide variety of sources.2
However, this is not a new problem; indeed it has persisted for many years – but why is this the case? This article explores the reasons why access to biopharma talent is such a persistent issue, providing cases studies and best practices to identify potential solutions.
Key factors
There are numerous factors contributing to the scarcity of talent in biopharma manufacturing, which can be broadly grouped into three categories:
Global workforce trends
Growth and diversification of biopharma
Advanced manufacturing.
Global workforce trends
The biopharma manufacturing industry has shown impressive growth over the last two decades, largely resulting from the manufacture of monoclonal antibodies (mAbs)"
In January 2020, the World Economic Forum (WEF) launched The Reskilling Revolution;3 a global initiative which describes the better skills, better jobs and better education that's needed for a billion people by 2030. The report highlighted that by 2022, the core skills required to perform most roles will change by 42 percent and every employee will require an extra 101 days of learning.
The COVID-19 pandemic has also had a significant impact. In April 2020, as a fear of critical drugs shortages took hold, Stella Kyriakides, the European Union's health commissioner, urged the EU to "reduce our dependency on other countries". The previous month, authorities in India – the world's largest provider of generic medicines – ordered the country's pharmaceutical firms to stop exporting 26 drugs and drug ingredients. Thankfully, such draconian action has receded but there is little doubt that countries will continue to develop their internal biopharma manufacturing capabilities.
Growth and diversification of biopharma
The biopharma manufacturing industry has shown impressive growth over the last two decades, largely resulting from the manufacture of monoclonal antibodies (mAbs). This growth is continuing owing to a diverse range of mAbs, including biosimilars, bi-specifics, tri-specifics, mAb fragments, etc. In addition, the industry has generated a wide range of complex new therapeutics such as cell and gene therapies, and of course RNA-based technologies – most notably, the ground-breaking messenger RNA (mRNA) vaccine technologies. This continued growth and diversification of therapies requires an increasingly sophisticated and skilled manufacturing workforce. For example, the production of autologous cell therapies requires large numbers of highly trained technicians to carry out highly complex, manual processes.
However, in many ways the skills required for cell and gene therapy are an evolution from the skills required for mAb production. Employees require core competencies in cell and molecular biology, bioprocess engineering, digital and data analysis. In addition, operational techniques including aseptic operations, cell culture, column chromatography, filtration, virus reduction and single-use systems remain vital.
Advanced manufacturing
The impact of industry 4.0 technologies including increased automation, digitalisation and robotics has been a key topic of discussion over the last few years. To date, there has been a somewhat sporadic implementation of these technologies at scale in industry. However, the pace of implementation is beginning to accelerate, placing demands on the biopharma workforce to have a broad array of digital competence and skills (see examples in box-out below).
Example of skills required for a Biopharma Automation Engineer
– Bachelor's degree in Engineering in mechanical, chemical or electrical disciplines with five or more years' experience supporting or developing automated systems
– Strong understanding of automation standards and architecture addressing batch process control, such as S88, and related automation systems, including process control systems, manufacturing execution systems, process data historians and laboratory information management systems
– Experience in pharmaceutical/biopharmaceutical drug substance manufacturing environments and processes
– Proven programming and maintenance experience with PLCs and software applications, ideally across several industrial platforms – Knowledge of building management/automation systems.
Workforce development initiatives
So how can this situation be addressed? Moreover, how can countries ensure that they have a sufficient pool of talent to meet the needs of this key strategic sector?
The potential solutions are multifaceted but require a strategic approach across all levels of education as well as a strong collaboration with industry. For example, my own organisation, the National Institute for Bioprocessing Research and Training (NIBRT), was established in 2006 as a collaboration between industry, academia and government. The NIBRT training facility was opened in 2011 and has since gone from strength‑to‑strength training on average 4,500 people each year. NIBRT now has a well‑established global partners programme, with associates in Philadelphia (Jefferson Institute for Bioprocessing), Canadian Alliance for Skills and Training in Lifesciences (CASTL), Biologics Innovation Facility University of Technology Sydney (UTS), Bioprocess Research and Training Academy Guangzhou (BRTAG) and Korean-NIBRT in Incheon, South Korea.
Other examples of workforce development initiatives include Campus Digital Biotech in France, which is building virtual, digital training solutions; NIIMBL in the USA, which is supporting a diverse array of educational initiatives in biopharma manufacturing; and some innovative programmes in the UK focused on cell and gene therapy, in particular around apprenticeship schemes.
Impact of new training technologies
The impact of industry 4.0 technologies including increased automation, digitalisation and robotics has been a key topic of discussion over the last few years"
The application of new training technologies is also having a significant impact on the speed, reach and effectiveness of upskilling programmes. During COVID-19, online learning was rapidly adopted and quickly became established as a norm. Immersive technologies, such as virtual reality (VR) and augmented reality (AR), have also been gaining momentum. However, the cost of development of VR solutions together with a lack of standardisation must be addressed to ensure this technology can reach its potential. However, the likelihood is that future learning will be a combination of a broad range of delivery mechanisms, from traditional lab and classroom to online and immersive technologies.
Conclusion
Overall, the strong global demand for talent is only set to increase over coming years due to biopharma growth, manufacturing complexity and other global trends. To meet demand and provide a sustainable talent pool, collaboration between industry, government and academia is a must, as is implementing multiple programmes, leveraging a broad array of learning modes across all levels and demographics.
About the author
Killian O'Driscoll is a genetics graduate from Trinity College Dublin with an MSc in the Management of Innovation from the University of London. He is also an Associate Lecturer in Project Management at Dublin Business School. Prior to joining NIBRT, Killian worked at Microsoft European Operations Centre as Senior Global Project Manager and at Ericsson Competence Development Centre in the area of technology education and development. Killian works closely with all stakeholders in the biopharmaceutical industry and has been involved in the successful establishment of NIBRT, which has numerous international accolades including ISPE Facility of The Year and Bioprocess International Manufacturing Collaboration of the Decade. NIBRT is now recognised as a global leader in biopharma research and training with partner sites in Philadelphia, Canada, Australia, Korea and China.
References
Biopharma reaches for homegrown talent [Internet]. Ft.com. 2021 [cited 12 November 2021]. Available from: https://www.ft.com/partnercontent/cytiva/biopharma-reaches-for-homegrown-talent.html
[Internet]. Bioplanassociates.com. 2021 [cited 12 November 2021]. Available from: https://www.bioplanassociates.com/reports-studies/
Preparing for the Future of Work initiative – Reskilling Revolution – World Economic Forum [Internet]. Reskilling Revolution – World Economic Forum. 2021 [cited 12 November 2021]. Available from: https://www.reskillingrevolution2030.org/reskillingrevolution/initiatives/…