Developing a shared passion surrounded by great minds
As part of EPR's Women in Pharma series, Andrea Miller, Head of Global R&D and Regulatory Affairs for Mylan, talks to Science Editor Dr Zara Kassam about the importance of being 'team smart', being open to new ideas and listening to other people's perspectives and learning from them…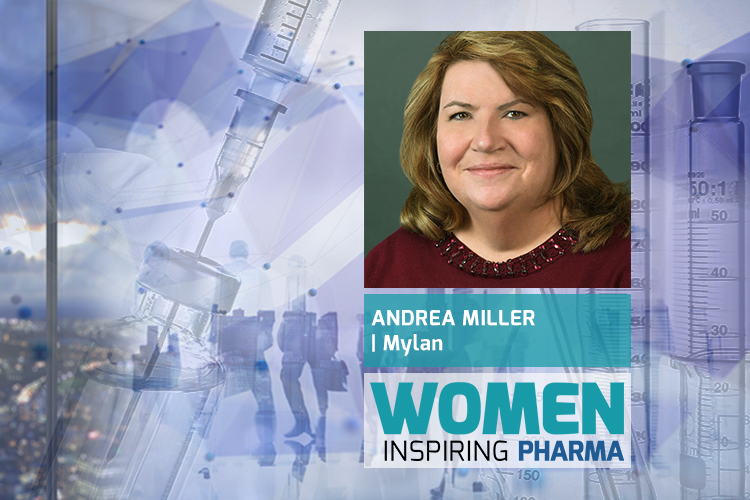 Tell me about your career? (A brief summary to date)
I started my career at Mylan almost 30 years ago as a clinical research associate in our pharmacokinetics department. Over the years, I've worked in a variety of positions across the company, spanning regulatory, drug safety, clinical research, new drug development and operations. I am a trained pharmacist and also went back to school during my time at Mylan to earn my law degree. These educational backgrounds have opened up many doors for me professionally. Immediately prior to my current role, I was head of Mylan's Global Biologics Operations, where I focused on bringing biosimilar medicines in key therapeutic areas to patients. In this position, I worked to help establish accelerated approval pathways for biologics, with the hope to provide patients who rely on these expensive drugs with more affordable treatment options.
What does your current role entail?
Today, I serve as head of Global R&D and Regulatory Affairs for Mylan. In this role, I lead Mylan's globally integrated research and development platform, which is made up of 14 different R&D centres around the world. Our 3,000-strong Scientific Affairs team focuses on a range of capabilities, such as injectables, transdermals, oral solid doses and active pharmaceutical ingredients. It is their work that fuels our robust pipeline with a focus on medicines that are complex and difficult-to-formulate.
I think the biggest barriers for success are the ones we put before ourselves
In addition, I am responsible for the oversight of more than 1,800 new product submissions pending regulatory approval and more than 6,300 additional submissions planned globally. From a regulatory affairs standpoint, our department's goal is to gain timely health authority approvals of new products, ensure that Mylan's existing marketing authorisations, labeling and promotional materials are in compliance, and serve as the face of Mylan with health authorities around the world with integrity, relentless passion, strong science and a commitment to high quality.
Do you think being a woman in the Pharma industry is a challenge?
No, I do not believe gender is part of the equation for success in this industry today. In my almost 30 years at Mylan, I have always had the same opportunities for success as my male colleagues. What matters in this industry is hard work, a passion for what we do and a deep focus on patients.
Are there any examples within your company in particular where women have been successful?
There are many. Just look at our CEO Heather Bresch, who started as a data-entry clerk and has risen through the ranks, holding roles of increasing responsibility in more than 15 functional areas over her 25-year career at Mylan. In addition to Heather, there are many other inspiring women we cannot only learn from but who also help support one another in their professional growth. I'm proud that our company has a rich history of developing and retaining top female talent. In fact, 25% of our managers are women, with 18% in executive roles. And 36% of our board members are women, including our CEO.
What have you experienced as barriers to success on your career path, and what advice would you give to women who come up against these same barriers?
 It's what you learn from failure – how it moves you forward and how it makes you grow – that matters
I think the biggest barriers for success are the ones we put before ourselves. For many people, women and men included, the biggest challenge is stretching yourself outside of your comfort zone. This is where real growth happens. If you want to succeed, you cannot stand still or simply accept the status quo. You must seek out, pursue and take the chance on new opportunities, even if they're not in your wheelhouse. Will you sometimes fail in these new endeavors? Absolutely. However, it's what you learn from failure – how it moves you forward and how it makes you grow – that matters. 
What can women do to prepare themselves to reach the C-suite in the pharmaceutical and healthcare industries?
My advice for women is the same as it would be for men: to succeed in this industry you need to work hard to get to the top. Nothing compares to old-fashioned hard work, perseverance and dedication. It's also important to ensure that you're continuously learning – from your peers, colleagues and your own experiences. To get to the C-suite, you have to embrace the never-ending role of student and teacher. At Mylan, we place a lot of focus on being team smart, which means working together and taking the time to teach one another, being open to new ideas, listening to other people's perspectives and learning from them.
Another critical element is passion. Because there's a real difference between having a job and love for what you do. One of the reasons I chose a career in the pharmaceutical industry over retail pharmacy was that during my training in the retail setting, I was often alone behind the pharmacy counter. Many times it seemed that I was isolated on an island, and the days were painstakingly slow. That has never been the case at Mylan. Here, I am surrounded by great minds from many professional backgrounds, ranging from physicians and scientists to legal and strategy professionals, with that same shared passion to help patients. I learn from them every day. It is inspiring to work with a strong and vibrant team.
Looking more broadly at the industry do you think there is a glass ceiling for women in pharma and is it any worse than in other industries?
Overall as an industry, I believe there is still work to do to achieve a greater share of women in senior leadership positions compared to other industries. However, I have seen a tremendous level of growth at the VP and EVP levels, which is promising. In my own experience at Mylan, I do not believe that a glass ceiling exists at this company. There are no limitations in terms of opportunities for women here.
Currently, men outnumber women in science graduate degrees in the UK – how can we better address this imbalance to encourage more women into biology, chemistry, mathematics, and so on?
We must start engaging girls in science, technology, engineering and mathematics (STEM) subjects at a much younger age, starting in the very early years of education. Many times, STEM subjects are rumoured to be hard or even boring. Unfortunately, many young ladies approach STEM courses with a pre-conceived notion that they will not be successful or that these courses have no application to them. My parents and older siblings made math and chemistry fun for me at a very young age. In addition to breaking the misconceptions around STEM courses, we need to show children how these subjects actually apply to everyday life, not just in the context of a math problem to solve on a worksheet. We need to make it real to them.
How could the Pharma industry benefit if more women were in higher roles?
If more women were in higher roles, I think the industry's approach to problem-solving could be different, both in how we solve health and treatment challenges for patients and in how we solve internal operating challenges as a business. For instance, we might see a shift in how certain disease areas are treated, either through different dosage administration formats or even greater focus on areas such as women's health. Operationally, we might see a change in how teams are formed, or how employees are managed.
Related topics
Related organisations
Related people