Taking a collaborative approach to continuous pharmaceutical manufacturing
Offering increased yields, lower utility consumption and reduced waste, continuous manufacturing presents a paradigm shift in drug production and meets the pharmaceutical industry's demands for faster product development, reduced costs, improved production economics and increased flexibility.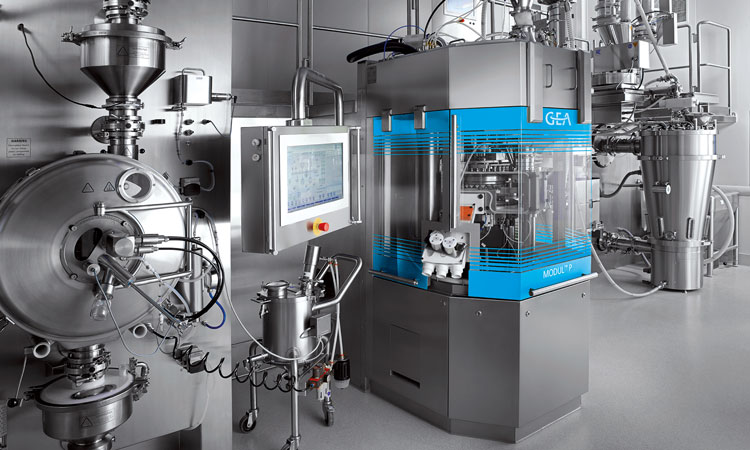 CONTINUOUS manufacturing (CM) is gaining momentum in the pharmaceutical industry, enabling a more efficient means of producing drugs. It entails moving away from stepwise and time-consuming batch processing — with the associated intermediate material transfer steps and frequent testing — to a fully integrated and closely-controlled process that gives excellent product consistency by intrinsic design.
Continuous production has a much smaller footprint, offers higher yields and lower environmental emissions per unit of product, while being far more flexible in operation. Typical applications include producing small batches of high-value products, reformulations and current non-robust processes and formulations with specific granulation and/or drying issues.
From a practical standpoint, pharmaceutical CM means that ingredients are continuously being fed in at one end of the production unit and end product is continuously being generated at the other. It's more cost effective than traditional batch processing, as the amount of product generated essentially depends on how long the equipment runs for.
Medicines can, therefore, be manufactured according to demand. A key feature of continuous manufacturing is that all process and quality parameters are constantly monitored and controlled at each stage of production with integrated process analytical technology (PAT) systems. This continual analysis ensures the highest product quality and efficiency, whilst minimising resource use, wastage and environmental impact.
The changing face of drug development and production
For more than 20 years, the batch-based production of blockbuster solid dosage forms dominated the industry. Profitability was such that companies were not incentivised to innovate or risk the potential pitfalls of developing new manufacturing technology. In the post-blockbuster era, however, the significant material costs that are encountered during drug development are becoming increasingly burdensome. This is exacerbated by the fact that new drug products are likely to be manufactured in far smaller quantities and that, for novel treatments, the development of bespoke commercial manufacturing processes is not guaranteed. 
Such pressures have put the costs, risks and timelines associated with traditional batch-based development and manufacturing under scrutiny. In most industries, CM is seen as the low-cost solution to producing low-value, high-volume products, in which there is little need to focus on the cost of materials used in process development and, often, little need for product changeover. In addition, regulators are increasingly supportive of CM and manufacturers are recognising that current quality assurance costs are disproportionately large compared with other industries, wherein the production, detection and removal of out-of-specification product is vanishingly small.
Continuous pharmaceutical manufacturing is a key element of the US Food and Drug Administration's (FDA's) 2002 Pharmaceutical Quality for the 21st Century: A Risk-Based Approach initiative. One of the aims of the directive is to modernise the pharmaceutical manufacturing industry. The use of PAT to monitor and control quality as an integral part of processing and manufacturing is fundamental to the global drive to incorporate analytical and quality control capabilities into the production process. This is an increasingly important concept known as quality by design (QbD).
"Although it's not easy for drug manufacturers to transition from batch to continuous manufacturing, there are significant rewards," commented Lawrence Yu, FDA's Deputy Director for the Office of Pharmaceutical Quality, adding: "FDA encourages others in the pharmaceutical industry to consider similar efforts."
FDA has said for several years that if drug makers paid more attention to high-quality manufacturing, it would prevent the regulatory problems that lead to plant closures and costly fixes. "Continuous processing also allows manufacturers to respond much quicker to changes in demand, potentially contributing to the prevention of drug shortages," Yu added.
Working together to make a difference
During this year's ACHEMA trade show in Frankfurt, Germany, GEA hosted a joint press conference with other key suppliers to the pharmaceutical sector to highlight a number of industry collaborations that are helping to facilitate the uptake of CM technology in the drug production sector. The take-home message, said Phil Gabb, Head of Solid Dosage Sales Support, GEA, is that businesses should work together to help the pharmaceutical industry overcome the various challenges involved in adopting continuous manufacturing. The companies involved included:
Accenture: a leading global professional services company that helps pharma clients to shape their strategies around CM and to manage their long-term operational transformation
G-CON Manufacturing: designs, produces and installs prefabricated, autonomous cleanroom PODs for the pharmaceutical and biopharmaceutical industries
GEA: one of the largest suppliers of process technology to advanced manufacturing industries, and a leader in the development of CM process solutions for solid dosage development and production
Leistritz: a developer, manufacturer and marketer of engineered products for the process and pharmaceutical industries
MG2: a leading supplier of flexible and scalable capsule filling machines with in‑process net weight control systems for full integration with CM suites
Perceptive Engineering: develops and deploys advanced analytics and intelligent control systems to blue chip clients around the world
RCPE: an international research centre specialised in pharmaceutical engineering and predictive science applied to develop the mechanistic understanding of products and processes
Siemens: a world leading provider of digital solutions throughout the entire value chain, including PAT data management platforms for continuous pharmaceutical manufacturing.
"All these companies have been actively building collaborative partnerships with providers of complementary technologies and solutions. This is allowing us to deliver the services and infrastructure that our customers need to be able to implement continuous manufacturing. There are several hurdles to negotiate when a company in the pharmaceutical industry decides to adopt CM. And whereas GEA can supply a wide range of process technology solutions, we don't have the skills or capabilities in every service area to solve all the problems that might arise," noted Phil.
"By collaborating with industry peers, we are all leading the way towards smaller, more flexible continuous processing technologies that have the potential to transform the future of pharmaceutical development and manufacturing — and deliver customised quantities of drugs to patients in need in a quick and efficient way," he added: "With our ConsiGma® platform, we certainly have a state-of-the-art CM solution and we're committed to making science work … but we can't do it all. This collaboration is all about a group of companies who are willing and able to cooperate in a particular area of business for the greater good of the pharmaceutical industry and, above all, the patient."
Real-time quality monitoring and control
The origin of the consortium lies in the formal collaboration between GEA and Siemens, publicly announced in January 2017. The aim of the collaboration was, from the start, to lower the threshold for pharmaceutical manufacturers to step into the world of PAT-supported continuous manufacturing.
With PAT, product development and production processes can be monitored, controlled and optimised by measuring and calculating the critical quality attributes (CQAs) of the end product in real time. This continuous monitoring of product quality can prevent deviations from specifications and, therefore, reduce production costs. It also allows for Real-Time Release Testing so that final quality inspections can be reduced or eliminated.
Founded on more than a decade of shared experience, GEA and Siemens felt it prudent to bundle this combined experience — ConsiGma® and SIPAT, respectively — to achieve a more standardised and integrated automation solution, based on Siemens' automation portfolio and advanced process control through the SIPAT Data Management system.
Process control
As part of the newly formed consortium, GEA and UK-based Perceptive Engineering will collaborate to promote and deploy multivariate monitoring and advanced process control (APC) solutions for batch and continuous pharmaceutical process units. The partnership will further enhance GEA's ConsiGma® platform for oral solid dose (OSD) pharmaceutical development and manufacturing by offering "out of the box" APC and monitoring capabilities. The continuous monitoring of product quality can prevent out-of-specification deviations and decrease production costs, as well as reduce final quality inspections by facilitating real-time release testing.
Perceptive's PharmaMV platform provides modular tools to design, deploy and maintain advanced applications within a regulated environment. The partnership builds on the successful implementation of Perceptive's APC platform into the first-generation PCMM (portable, continuous, miniature and modular) platform for the development and production of pharmaceutical OSDs. The PCMM was originally conceived by GEA, Pfizer and G-CON; the three companies partnered to design and build a portable, autonomous manufacturing environment for continuous OSD production.
The relationship between GEA and Perceptive represents an extension of the previously announced collaboration between GEA and Siemens, as well as the companies' existing association. Together, they provide an industrially-proven solution for pharmaceutical manufacturers, comprising both hardware and software platforms, as well as PAT integration, process monitoring, process analytics, control and optimisation. This complete, seamless suite is designed to help pharma companies exploit the opportunities presented by moving to continuous manufacturing.
From a more business-oriented perspective, Accenture Strategy is helping pharmaceutical clients around the world to shape their CM policy by assessing its contribution in terms of digital transformation, network and organisational changes, commercial strategies and implementation.
Process technology
Adding a complementary technology to the consortium, Leistritz Extrusionstechnik has been manufacturing twin-screw extrusion systems for more than 50 years and is a major player in the field of pharmaceutical extrusion. Their co-rotating twin screw is, by nature, a continuous process and has been proven in many applications such as hot melt extrusion, melt granulation and wet granulation. A key aspect of granulation, twin-screw processing requires extensive experience of screw configuration, material of construction and general process know-how. Leistritz, as a long-term partner to the pharmaceutical industry, can support the continuous manufacturing process in each of these aspects.
With its own innovations, GEA has been preparing the road for the pharma industry to implement CM by developing and delivering CM equipment for OSD products since 2005. Today the company offers a one-stop-shop solution to convert powdered raw materials into a finished coated tablet. ConsiGma® was developed in compliance with the FDA's QbD initiative. It satisfies the industry's need for reduced risk and higher quality while avoiding lengthy and costly validation and scale-up to bring products to market faster and cheaper. This inherent flexibility enables manufacturers to meet demand, keep expensive cleanroom space to a minimum and reduce inventory costs.
Optionally integrated advanced process control and PAT tools enable monitoring during production, so quality can be designed into products from the start. ConsiGma® provides the maximum output in an energy efficient way, has been tested using more than 100 different formulations and is already being used by several large pharmaceutical companies — and both ethical and generic research and manufacturing centres — worldwide. Based on customer analysis and the experience gained from multiple global installations, ConsiGma® offers the following benefits:
Maximal end-product safety using online quality control
10 times faster testing in research and development
40% saving on labour
Reduced manufacturing space: up to 60% compared with current facilities
50% energy savings based on reduced installed power and heat recovery
Between 0.5 and 5.0% yield improvement.
Of course, CM is not just for tablets. As such, GEA has been working with MG2 – a market leader in continuous motion capsule fillers. MG2's encapsulation machines can be integrated with GEA's continuous system, for example, to provide a complete and unique solution that satisfies the production requirements of the pharmaceutical industry.
Using a QbD approach, drug manufacturing cycle times — from active pharmaceutical ingredient (API) to product release — can now be measured in hours rather than weeks. The ability to run CM plants for extended periods also decreases the product wastage associated with each plant startup and shutdown, while the high degree of automation minimises the need for manual intervention. By reducing development timelines and API use, and eliminating scale-up and product transfer, the technology is not only compact and cost-effective, it also offers greater operational efficiencies and more environmentally-friendly manufacturing.
The clear benefits demonstrated are facilitating the switch to CM and helping the pharmaceutical industry to produce higher-quality products, enhance drug safety, reduce its industrial footprint and decrease waste, which provides significant advantages to governments, companies and patients alike.
Putting the theory into practice
As the continuous processing of pharmaceuticals moves out of the laboratory and into production environments, questions regarding the capability of the equipment to reliably and compliantly produce high-quality product for long periods of time have been raised. To address this issue, GEA, in collaboration with MSD – a tradename of Merck & Co., Inc. (Kenilworth, NJ, USA) – recently conducted a successful robustness run using their continuous compression system equipped with Siemens' data management solution for a period of 120 hours.
The trial run was monitored using a suite of tools, including the high-frequency measurement of more than 100 process and environmental parameters, such as spectroscopic analysis of the powder blend and physical testing of finished product; soft sensors were used to predict critical quality attributes (CQAs). Particularly noteworthy was the use of an advanced process model to predict tablet potency and accept or reject tablets at the end of the production line. This advanced control strategy was developed by characterising the Residence Time Distribution (RTD) of each blending stage using Near Infrared Spectroscopy (NIR) techniques with a GEA Lighthouse Probe™ embedded within the production line.
By the end of the 120-hour trial, more than 15 million tablets had been made using approximately 6,200kg of raw material in a single production area. Importantly, final analysis indicated that the campaign length could be increased still further and run for longer. Benchmarking against a typical batch process, producing the same quantity of tablets would have required 10 separate campaigns and taken a team of operators working in parallel in three production areas for five to seven days. The positive outcome highlights the suitability of CM for the efficient completion of campaigns that formerly involved longer and more complex batch processes.
In conclusion
Optimising today's oral solid dosage production processes is a key driver of CM implementation. GEA has redefined typical batch-based operations to work in a continuous way to deliver products according to a lean, high quality regime. Real-time quality assurance is enabled by the application of inline PAT systems that are linked to the automated adjustment of processing parameters. This facilitates real-time product release against a backdrop of less invasive regulatory oversight, as well as the reduced use of resources and energy, lower product losses and minimised downtime.
A single CM line can be used to process any volume of product – from small quantities for formulation development and design of experiments (DoE), through to clinical trials and the full-scale manufacture of new chemical entities and high-volume generics – without the need for investment in costly new equipment or a dedicated plant. Product output is rapid, scalable and flexible; from small- to large-scale and from low- to high-value rare disease drugs, the technology offers a solution for every application.
Biography
Richard Steiner is Business Development Manager for continuous oral solid dosage (OSD) systems at GEA. Previously, Richard held a number of management positions at Leistritz Extrusionstechnik GmbH and Raumedic AG and is considered to be both a B2B marketing specialist and hot melt extrusion process expert.
He was educated at the University of Applied Sciences in Nürnberg and the FU University of Berlin, and graduated as a mechanical engineer, MBM and MBA. He has contributed numerous papers and chapters to a variety of scientific textbooks and is a frequent speaker at international conferences.
Read more from our Spotlight on Continuous Manufacturing:
Continuous Manufacturing Roundtable
Making science work, GEA profile
Digital solutions for the pharmaceutical value chain, Siemens AG profile
Leading Prefabricated Cleanroom Designs, G-CON Manufacturing, Inc. profile
MG2 Capsule Fillers, MG2 S.r.l. profile
Your Process, Improved, Perceptive Engineering Limited profile
Better science for better products, Research Center Pharmaceutical Engineering GmbH profile
Richard Steiner, GEA Group
On behalf of: Accenture, G-CON, GEA, Leistritz, MG2, Perceptive Engineering, RCPE and Siemens
The rest of this content is restricted - login or subscribe free to access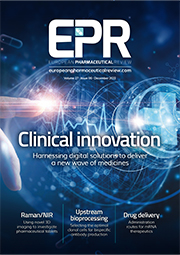 Thank you for visiting our website. To access this content in full you'll need to login. It's completely free to subscribe, and in less than a minute you can continue reading. If you've already subscribed, great - just login.
Why subscribe? Join our growing community of thousands of industry professionals and gain access to:
bi-monthly issues in print and/or digital format
case studies, whitepapers, webinars and industry-leading content
breaking news and features
our extensive online archive of thousands of articles and years of past issues
...And it's all free!
Click here to Subscribe today Login here
Issue
Related topics
Related organisations