High levels of pharmaceutical pollution found in industrialising counties
A study has revealed that in industrialising and urbanising countries, pharmaceutical pollution in rivers could lead to antimicrobial resistance.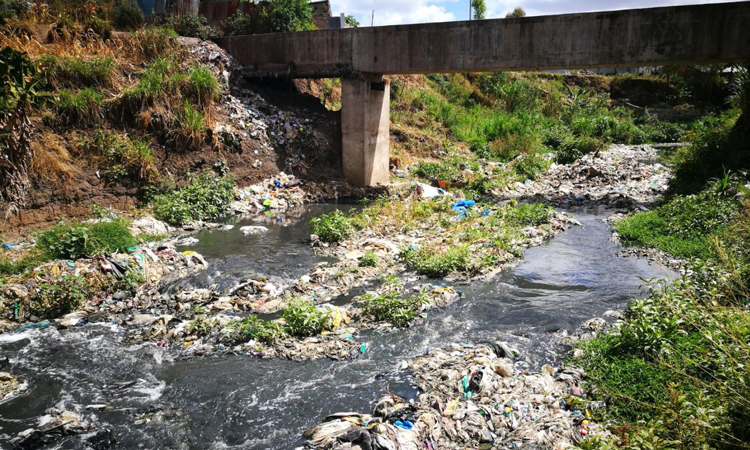 The degree of pollution in the Nairobi river (credit: Dr Simone Bagnis/University of Plymouth).
Researchers have found that a lack of appropriate infrastructure can lead to untreated wastewater containing pharmaceutical chemicals entering river systems and damaging the environment.  
The study, conducted by the University of Plymouth, UK, found that in counties undergoing industrialisation and urbanisation, failure to ensure the environmental sustainability of growing patient access to medicines in developing economies could increase the risk of adverse environmental impacts.
Taking samples from the Nairobi/Athi river basin in Kenya, the team analysed the source, occurrence, magnitude and risk associated with a range of active pharmaceutical ingredients (APIs) and other chemicals.
They found elevated levels of drugs including paracetamol, sulfamethoxazole ciprofloxacin and trimethoprim, up to 75km downstream from the centre of Nairobi.
The primary sources were the direct discharge of untreated domestic wastewater from informal settlements, the industrial area of Nairobi where drug formulation is known to occur and a major landfill site.
Scientists say the chemicals could pose several risks, including the potential threat of anti-microbial resistance (AMR) with the river being used by communities as a source of drinking water.
While this research was conducted in the Nairobi area, the researchers say its findings could be applied to anywhere in the world where the development of an urban area has outpaced the development of basic sanitation and the environmental infrastructure required to support its population.
Dr Sean Comber, Associate Professor in Environmental Chemistry and the paper's corresponding author, said: "Where [pollution] occurs, you would expect pharmaceuticals to be present, but the highest concentrations were over a thousand times greater than typically reported in, for example, UK rivers – with the antibiotics being of particular concern, given elevated levels extend so far downstream from the urban centre. As well as the environmental risk, this does pose the threat that bacteria develop a resistance to certain types of medication. And in locations where disease can spread at an alarming rate, that is obviously a major cause for concern."
The results were published in Science of The Total Environment.