Novartis headquarters opens in White City, London
In a formal ceremony, the new headquarters for Novartis has been opened in White City, London, in close proximity to Imperial College London's research campus.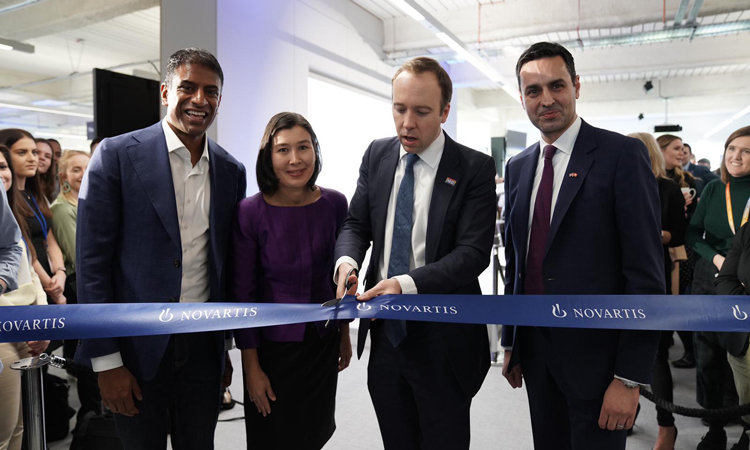 Matt Hancock, with Vas Narasimhan, Mari Scheiffele (General Manager UK & Ireland, Novartis Oncology) and Haseeb Ahmad (credit: Novartis UK).
Novartis announced yesterday that their new headquarters has formally opened in White City Palace, London. The facility will bring the company close to Imperial College London's new research and innovation campus.
The new headquarters were opened by Matt Hancock MP, Secretary of State for Health and Social Care, together with Vas Narasimhan, Chief Executive Officer at Novartis, Marie-France Tschudin, President of Novartis Pharmaceuticals and Haseeb Ahmad, Managing Director of Novartis Pharmaceuticals in UK, Ireland and Nordics, and Country President, Novartis UK.
"The UK life sciences sector is at a crossroads, with many opportunities available for cutting-edge innovation and partnerships. White City is fast becoming one of the UK's most exciting new hubs for life sciences and puts us in the perfect position to continue working with our partners to find new ways to innovate and collaborate to build a healthier tomorrow," commented Ahmad.
To coincide with the opening of the new headquarters, Novartis Institutes for BioMedical Research (NIBR) will host a scientific symposium for around 200 UK scientists at the Imperial College London campus location in White City. The symposium will give UK scientists the opportunity to learn more about the NIBR's scientific priorities and how they can work with the organisation.
Professor Alice Gast, President of Imperial College London, said: "Novartis is a leader in the world of medicines and we welcome them to White City. Their move is another sign that White City is becoming a vibrant and exciting life sciences cluster. There are unprecedented opportunities for academia, businesses and entrepreneurs in White City as our campus provides strength and leadership in molecular sciences, bioengineering and public health and close proximity to our medical research and translation work at Hammersmith Hospital. Imperial and Novartis' proximity will enhance our collaboration as we work together to tackle healthcare challenges of our time."