120 million COVID-19 rapid diagnostic tests made available to lower income countries
The Access to COVID-19 Tools (ACT) Accelerator reports that new agreements have made millions of rapid COVID-19 antigen tests available to low and middle-income countries.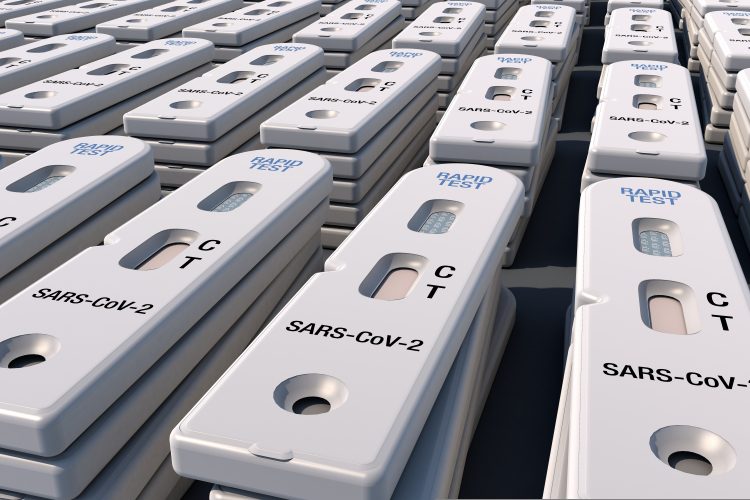 New agreements have made 120 million affordable, high-quality COVID-19 antigen rapid diagnostic tests (Ag RDTs) available to low and middle-income countries (LMICs).
Testing has become the cornerstone of the COVID-19 response, enabling countries to trace and contain the virus and prepare for the initiation of vaccination programmes, once an approved vaccine is available. While there are a range of effective testing strategies, for LMICs, laboratory-based tests are impractical, as they often do not have the extensive laboratory facilities or trained health workers required to implement polymerase-chain reaction (PCR) tests. Therefore, rapid tests which can detect the presence of the virus at the point of care are a vital addition to the COVID-19 testing arsenal.
Organisations involved in the agreements include the Africa Centres for Disease Control and Prevention (Africa CDC), the Bill & Melinda Gates Foundation, the Clinton Health Access Initiative (CHAI), the Foundation for Innovative New Diagnostics (FIND), the Global Fund, UNITAID and the World Health Organization (WHO).
Dr Iain Barton, Chief Executive Officer of CHAI, said: "These agreements will help ensure that millions of people in low- and middle-income countries have access to high-quality rapid testing in villages and towns as well as cities. This has the potential to revolutionise government's ability to respond to the pandemic, enabling quick diagnosis and response to contain localised virus outbreaks before they spread."
As part of the effort, the Bill & Melinda Gates Foundation has executed separate volume guarantee agreements with Abbott and SD Biosensor. These two arrangements will make 120 million Ag RDTs – priced at a maximum of $5 per unit – available to LMICs over a period of six months. According to the Access to COVID-19 Tools (ACT) Accelerator, these tests provide results in 15-30 minutes and will enable expansion of testing, particularly in countries that do not have the ability to perform molecular tests.
To increase the amount of available Ag RDTs, the Global Fund has made $50 million available from its COVID-19 Response Mechanism to enable countries to purchase at least 10 million of the new tests for LMICs at the guaranteed price, with the first orders expected to be placed this week through the Global Fund's pooled procurement mechanism.
FIND and WHO are accelerating the appropriate use of the tests by supporting implementation research that will optimise Ag RDT use in multiple LMICs, in line with WHO guidance. This includes provision of catalytic volumes of tests to understand how Ag RDTs can best fit into health systems.
UNITAID and the Africa CDC will initiate the roll out of these tests in up to 20 African countries in October 2020.
Dr John Nkengasong, Director of the Africa CDC, said: "Antigen tests are an important complement to PCR testing and are crucial to expand testing capacity throughout Africa. The beauty of antigen testing is that it is fast and gives quick results. It will allow healthcare workers to quickly isolate cases and treat them while tracing their contacts to cut the transmission chain."
The ACT-Accelerator Diagnostics Pillar is attempting to accelerate innovation and overcome the technical, financial and political obstacles to achieving equitable access to effective and timely COVID-19 testing. The global collaboration has enabled the development and deployment of the first WHO EUL-approved Ag RDT within eight months of the SARS-CoV-2 coronavirus being identified. In comparison, it took nearly five years to develop the first RDT for HIV. Several more Ag RDTs for COVID-19 are currently under WHO EUL review as well.
Overall, the ACT-Accelerator Diagnostic Pillar aims to facilitate the supply of 500 million tests to LMICs within 12 months. These agreements are a critical step in fulfilling the ACT-Accelerator objective: to ensure all countries, regardless of income, have fair access to new tests and tools to fight COVID-19.
Dr Carolyn Gomes, Special Advisor for the Board, ProActividad, Jamaica, and Alternate Board Member (Developing Country NGOs), The Global Fund, said: "Ensuring equitable access to rapid diagnostic tests is essential for controlling COVID-19 in all countries and to opening up economies across the world. Ensuring an affordable price is a major step forward.  Tests that can be used at the point of care by front-line workers will greatly facilitate community access to testing. To ensure equity in access for those who need it most, there will need to be much greater support of the ACT-Accelerator and the Diagnostics Pillar in particular. Much more money is needed to meet the needs of the most vulnerable."