Lonza expands HPAPI manufacturing suite
Lonza's HPAPI multipurpose suite in Visp, Switzerland now includes enhanced capability for antibody-drug conjugate (ADC) payload production.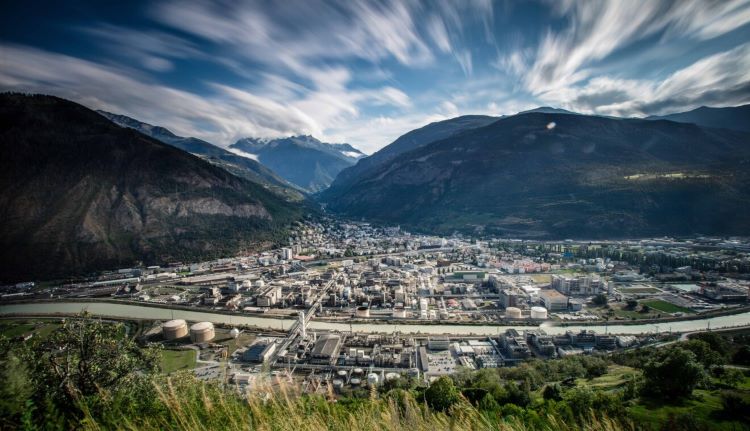 Visp site in Switzerland (Credit: copyright: Lonza Ltd)
Lonza has opened the extension of its highly potent active pharmaceutical ingredients (HPAPI) manufacturing suite in Visp, Switzerland.
The expansion adds further capacity for manufacturing antibody-drug conjugate (ADC) payloads, supporting the entire development and manufacturing pipeline from feasibility studies to commercial supply.
Lonza, a contract development and manufacturing organisation (CDMO), develops and manufactures key compounds required for ADC payloads, such as antibodies and the required linkers. The new and improved capabilities of its kilogram-scale HPAPI manufacturing suite streamlines the ADC payload development process.
The new facility can handle compounds with occupational exposure levels down to 1 ng/m3. The equipment on-hand consists of reactor sizes from one to 50 litres with a temperature range of -80°C  to 150°C, isolation and drying equipment, and lyophilization and chromatography machines for payload-linker manufacture.
"With this new fully integrated offer in Visp, we simplify the supply chain under one roof: from the production of an antibody to the chemical synthesis of complex payload-linkers and bioconjugation," stated Iwan Bertholjotti, Senior Director, Commercial Development and Strategic Marketing for Bioconjugates at Lonza.
The operational expansion supports manufacturing of targeted therapeutics, particularly in the ADC market. Giovanna Libralon, Senior Director for Commercial Development, Small Molecules at Lonza explained: "The extended capacity will allow us to respond to a growing global need for these therapies, especially in the oncology field."
The Visp expansion was assisted by an expert team with a decade of experience in producing over 300 cGMP batches and developing 15 payload-linkers and 50 HPAPI programmes.
Earlier this year, Lonza and Kodiak Sciences Inc opened a custom-built bioconjugation facility within Lonza's Ibex® Dedicate manufacturing complex at the Visp site. The facility will support manufacturing of KSI-301, an antibody biopolymer conjugate for retinal diseases.