HPLC Congress 2016- Exploring the boundless analytical techniques
Posted: 16 September 2015 |
Microanalysis which is critical in today's research is ushered by boundless analytical techniques, the major one being HPLC…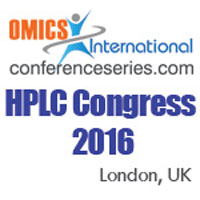 Microanalysis which is critical in today's research is ushered by boundless analytical techniques, the major one being HPLC. HPLC Congress 2016 during March 17-18, 2016 in London, UK invites all the researchers, academicians, students and business personnel to the "International Conference and Exhibition on Advances in HPLC and Chromatography Techniques" to investigate the theme "Exploring the Widespread Applications of Chromatography and Unveiling Advances in HPLC". 
HPLC Congress 2016 targets the recent accomplishments related to HPLC and chromatography techniques to enhance the perception of students and researchers from all over the world with the help of eminent researchers and inspiring speakers. The conference will see some of the golden works relevant to chromatography thus accelerating analytical and scientific works. HPLC Congress 2016 also caters the exhibition of products and services from various commercial and non-commercial organizations thus interlinking academia and business. In the light of this theme, the conference series aims to provide a forum for international researchers from various areas of analytical chemistry, pharmacy, pharmacology, bioinformatics and other life science groups by providing a platform for critical analysis of new data, and to share latest cutting-edge research findings and results about all aspects regarding advances in HPLC and Chromatography techniques.
Conference Highlights:
To submit your abstracts to HPLLC Congress 2016 ps: http://hplc.conferenceseries.com/abstract-submission.php
Registration
We provide group discounts for student, research and business groups. Register before the early bird dates at: http://hplc.conferenceseries.com/registration.php
HPLC (High Performance Liquid Chromatography) is the most popular analytical technique for a wide variety of samples from typical biological compounds to those in polluted environment. HPLC is unique because of its features like pressure stable column, constant and high linear velocity of mobile phase and most important densely packed column with reduced particle size, less than 10µm (less than 2µm in UHPLC) . Since its invention, chromatography has become a key tool for separation, identification, purification and quantification of several compounds. Chromatography is under constant development owing to the growing research needs in academic and industrial levels. This has led to the combination of HPLC with other spectroscopic techniques like NMR, MS, GC, IC, SE and MALDI. Hyphenated HPLC techniques are now more investigated and used to combine the efficiency of more than one technique. The particle size in a chromatography column is now being reduced to as much as sub-micro and sub-nano thus increasing the height of research.
Organizing Committee for HPLC Congress 2016
Dusan Berek– Slovak Academy of Sciences, Slovakia
Boguslaw Buszewski– Nicolaus Copernicus University
Jacob de Boer– Institute of Environmental Studies (IVM), Netherlands
Gerhard Kratz– ABCR GmbH & Co. KG, Karlsruhe, Germany
Dr Sergey A Piletsky– University of Leicester, UK
Dr Stephen M Husbands– University of Bath, UK
William Whitford- GE Healthcare, USA
Dr Eduard Rogatsky– Einstein-Montefiore Institute, USA
Dr Wayne G Carter– University of Nottingham, UK
Sponsors and Exhibitors can see us at: http://hplc.conferenceseries.com/sponsors.php