Venetoclax shown to be effective in CLL patients who relapse or are refractory
New data show promising results for venetoclax in patients with chronic lymphocytic leukaemia who have relapsed or become refractory (R/R) to treatment…
New data, presented at the 21st European Haematology Association (EHA) Annual Congress,  show promising results for venetoclax as a monotherapy in difficult-to-treat patients with chronic lymphocytic leukaemia (CLL) who have relapsed or become refractory (R/R) to treatment after receiving ibrutinib or idelalisib.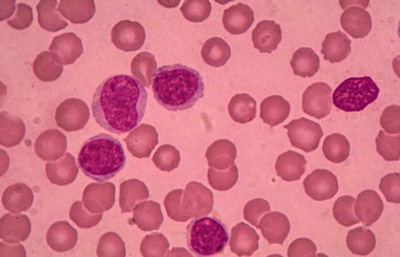 Venetoclax, a first-in-class oral B-cell lymphoma-2 (BCL-2) inhibitor, also demonstrated early and sustained impact on the progressive and severe impact of fatigue in patients with CLL who have the del(17p) gene mutation.
The therapy which has been granted a Promising Innovative Medicine (PIM) designation by the MHRA, works quickly and effectively by targeting the BCL-2 protein, which regulates cell survival, restoring the body's ability to trigger cancer cell self-destruction (apoptosis).
Commenting on the results, Professor Peter Hillmen, Consultant Haematologist, Leeds Teaching Hospitals NHS Trust and Coordinating Investigator of venetoclax studies in the UK said: "Until now when a patient relapsed on ibrutinib or idelalisib we had very limited treatment options and the patient's expected survival was very short. However, these initial results for venetoclax are very exciting giving an important treatment option for these very difficult-to-treat patients. The trial demonstrates that venetoclax could be an important, targeted option for those patients with CLL who have failed on prior therapy (including those with deletion of chromosome 17p in their CLL), and therefore have a poor prognosis. It is also very encouraging that venetoclax is demonstrating an improvement in the debilitating effects of fatigue in CLL as the disease has a major negative effect on quality of life."
"These important studies form part of our continuous efforts to understand the full potential of venetoclax and to further explore novel mechanisms of action in blood cancers," added Alice Butler, Medical Director, AbbVie UK.
The ongoing Phase II monotherapy study evaluated CLL patients, who were R/R and who had received venetoclax following previous therapy with BCR inhibitors, ibrutinib or idelalisib. The primary endpoints which will be evaluated at the end of the study are overall response rate (ORR) and safety. Initial results show that in R/R CLL patients who had previously used ibrutinib (n=38), venetoclax showed activity in 61% of patients, including a response in 14/22 refractory patients. In R/R CLL patients who had previously used idelalisib (n=10), venetoclax showed activity in 50% of patients, including a response in 3/5 refractory patients. Safety results were shown to be consistent with prior reports. The most common adverse events were neutropenia ,diarrhoea, nausea, anaemia, fatigue and hyperphosphatemia.
Patients on venetoclax experiences an improvement in quality of life
Secondly, in early results of a sub-analysis of the pivotal registration study M13-982 evaluating patients ≥18 years of age with R/R del(17p) CLL, patient-reported (health-related quality of life) HRQoL measures were an exploratory endpoint using two separate scales (EORTCQLQC30 and EORTCQLQCLL16). Overall, patients on venetoclax experienced an improvement in symptoms and quality of life and not only were they significant improvements, but they exceeded the thresholds for minimally important differences. Fatigue was shown to improve across both scales and scores on how patients view their future health and increased by more than 20 points from baseline over 24 weeks.
Venetoclax is currently under review by the European Medicines Agency (EMA) and is being evaluated in Phase III clinical trials for the treatment of R/R CLL, along with earlier phase studies in several other cancers.
Related topics
Related organisations
Related diseases & conditions