Waters BioResolve RP mAb Polyphenyl Columns, setting a new standard for reversed-phase separations of Monoclonal Antibodies and Antibody Drug Conjugates
Waters Corporation (NYSE:WAT) today introduced BioResolve™ RP mAb Polyphenyl 450 angstrom 2.7 micron solid core Columns intended for the reversed-phase analysis of intact or sub-unit-digested monoclonal antibodies (mAbs) and antibody-drug conjugates (ADCs) using LC-UV and LC-MS…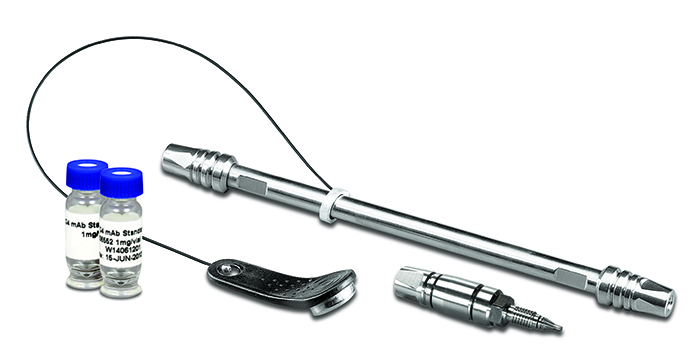 In addition to getting performance-driven columns, users of BioResolve brand columns will receive application-focused standards, templated methods, and an enhanced level of applications support to help ensure that they can consistently and reliably perform state-of-the-art bioseparations.
"A segment of the scientist community regards mAb and ADC separations as overly complex. The causes of their frustrations are many and they include poor data quality, degradation of the target mAbs, poor recovery, excessive carryover and erratic results due to column-to-column irreproducibility. To address these issues, we tasked our research scientists to engineer a column that would raise the bar for separation performance and take the hassle out of the measurement process," said Dr. Erin Chambers, Vice President, Chemistry, Waters Corporation. "Our ultimate goal is to enable biopharmaceutical scientists to generate consistent results that meet international regulatory requirements to confirm product efficacy and safety."
Jacquelynn Smith, a member of Pfizer's Analytical Research and Development Department, St. Louis, Missouri who has evaluated the BioResolve RP mAb Polyphenyl Column, said, "The newly introduced BioResolve RP mAb Polyphenyl wider pore column provides superior recovery, separation and resolution of therapeutic monoclonal antibody (mAb) subunits and domains, as compared to columns on the market. This resulted in higher quality product profiles for mAbs and antibody drug conjugates, especially when hydrophobic subunits and domains were encountered. The BioResolve RP mAb Polyphenyl column addresses the key challenges of mAb and ADC subunit/domain analysis, helps toward right first time analyses, and will be a valuable addition to our characterisation toolbox."
Her poster, High Resolution Chromatography – Mass Spectrometry with a Novel Phenyl RPLC Column for Heightened Characterisation of Hydrophobic Monoclonal Antibodies and Antibody Drug Conjugates, will be presented at the 22nd Symposium on the Interface of Regulatory and Analytical Sciences for Biotechnology Health Products (WCBP) in Washington, D.C., January 30 – February 1.
With the introduction of BioResolve RP mAb Polyphenyl Columns, Waters continues its commitment to the biopharmaceutical industry by meeting the needs of analytical scientists and lab managers across the discovery, development and manufacturing pipeline.
Performance-Driven Particle and Bonding Technology
The combination of the BioResolve RP mAb Polyphenyl Column 450 angstrom solid-core particle design and proprietary polyphenyl ligand bonding makes it especially well-suited for reversed phase separations of intact mAbs, IdeS generated fragments and similarly sized proteins. These columns establish a new industry standard for separation selectivity, efficiency, sample recovery and low injection-to-injection carryover even when operated at lower temperatures.
The BioResolve RP mAb Polyphenyl 450 angstrom 2.7 micron Columns are available in lengths of 50, 100 or 150 millimeters and internal diameters of 2.1 or 4.6 millimeters for compatibility with UltraPerformance Liquid Chromatography ™ (UPLC™), Ultra-High Performance Liquid Chromatography (UHPLC) or High Performance Liquid Chromatography (HPLC) separations platforms thus facilitating easy method transfer between discovery, development and manufacturing/QC applications.
In addition, the columns are shipped with the same reduced IdeS-digested NIST reference material that Waters uses to quality-test each batch of stationary phase.
The new BioResolve RP mAb Polyphenyl Columns are now available worldwide from Waters.
For more information: www.waters.com/bioresolve.