Protection against yellow fever provided by fractional-dose vaccination
Researchers at Leiden University Medical Center have identified how fractional-dose yellow fever vaccinations protect against the condition for ten years…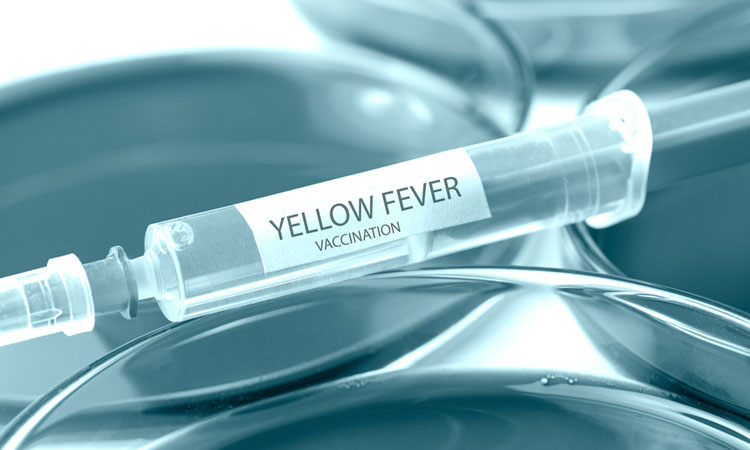 A one-fifth dose of yellow fever vaccine protects against yellow fever for 10 years and does not require a booster, findings from a follow-up study of a randomised controlled, non-inferiority trial showed. 
Yellow fever is an acute viral hemorrhagic disease that is spread by infected mosquitoes. The name of it, 'yellow', refers to the jaundice that affects some patients. Symptoms of the condition include headache, fever, muscle pain, nausea, vomiting and fatigue.
In a recent outbreak of urban yellow fever in Angola and the Democratic Republic of Congo, 4,347 suspected cases and 377 deaths were reported from December 2015 to October 2016.
Since there is no cure, vector control and vaccination are essential for prevention. Outbreaks of yellow fever and a frequently depleted vaccine stock increase demand for a dose-sparing strategy. A fractional dose of 17D yellow fever virus (17D-YFV) vaccine has been shown to be non-inferior to the standard dose for inducing a protective immune response, but whether this dose provides long-term protection is not known.
Researchers from Leiden University Medical Center, Leiden, the Netherlands, studied 10 year follow-up data on a subgroup of patients from the trial to evaluate whether fractional-dose vaccination conferred long-term immunity. They analysed blood samples from 75 participants from the original trial who had received a 0.1 millilitre fractional dose intradermally, and 35 received the standard 0.5 millilitre dose subcutaneously.
They found that 97 percent of participants had protective levels of yellow-fever neutralising antibodies more than 10 years after receiving fractional dose of 17D-YFV vaccine compared with 34 of 35 who received the standard dose.
According to the researchers, this is one of the first studies to document long-term protection after fractional-dose yellow fever vaccination. These findings reinforce the policy of using fractional doses in preventive mass vaccination campaigns before an impeding outbreak and also show that a booster dose is not necessary.
The study was published in Annals of Internal Medicine.