Steriline products and solutions: Intelligent compounding systems
As a single-source supplier of equipment solutions for the primary packaging of injectable drugs, Steriline develops, manufactures and supplies a comprehensive range of solutions, including both mechanical and robotic applications for the aseptic processing.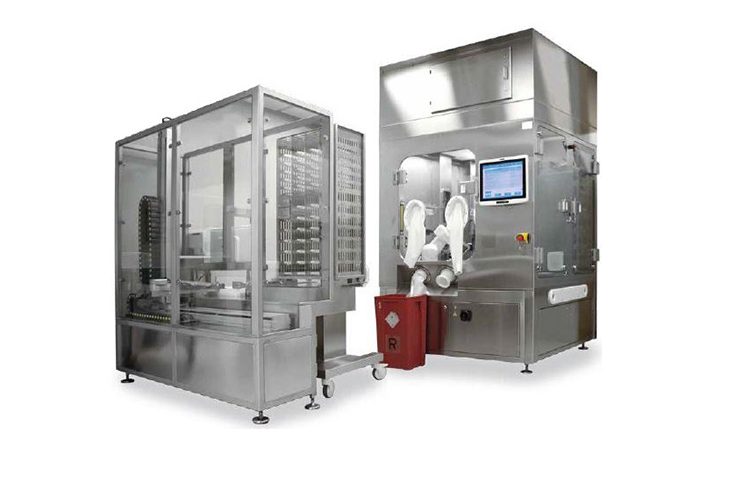 These applications are compatible with vials, ampoules, cartridges, and syringes and can handle toxic or non-toxic products in both liquid and powder form.
Steriline's complete lines include equipment spanning from washing machines, depyrogenation tunnels, filling and capping machines to external decontamination machines and barrier systems such as LAF, oRABS, cRABS and isolators.
Quality and sustainability
In 2015 Steriline has been certified ISO 9001:2008 and in 2018 ISO 9001:2015 and fulfils quality management system requirements, covering all production processes and organisational procedures to continuously improve customer satisfaction. Steriline is also compliant with cGMP, GAMP and 21CFRPart11 requirements. Moreover, Steriline places high relevance on protecting the environment and adoptssustainable business practices. The company complies with all applicable legislations regarding the environment and works economically and responsibly with resources.
Focus on the intelligent compounding system
The intelligent compounding system (ICS) is a fully automated robotic solution, controlled by software, which compounds parenteral medication doses into the appropriate final containers within a controlled (ISO class 4.8, grade A) environment.
The ICS is for use within the compounding practices, both in hospitals and compounding centres, to prepare injections in accordance with appropriate regulations and to label final products in accordance with good practice requirements. It is based on isolator technology and includes a bio-decontamination system with vaporised H2O2 sterilisation technology; it can therefore be installed in an ISO class 8 (grade D) background environment, as per GMP Annex 1.
The ICS can handle both hazardous and non-hazardous medications and both patient specific and batch production.
The ICS includes state-of-the-art automation and robotics to perform the following tasks without requiring human intervention:
Sterilise all items with vaporised H2O2 prior to starting the compounding cycle
Calculate conversions between weight and volume on the basis of product and concentration specificgravity data
Reconstitute powder drugs with the appropriate fluid
Dilute liquid drugs to achieve a desired concentration
Remove excess liquid from i.e. bags and bottles
Compound doses into empty containers (syringes, i.e. bags, elastomeric infusers)
Manage in-process waste.
The ACS addresses safety concerns for users as well as for patients:
Access restricted to authorised personnel only
No exposure by using isolator technology
Automated waste management
No cross contamination
Safe identification of all items via a combination of vision systems, barcode readers and RFID technology
Traceability guaranteed throughout the process via RFID technology.
Related content from this organisation
Related topics
Related organisations