Steriline products and solutions: Robotic applications
As a single-source supplier of equipment solutions for the primary packaging of injectable drugs, Steriline develops, manufactures and supplies a comprehensive range of solutions, including both mechanical and robotic applications for the aseptic processing.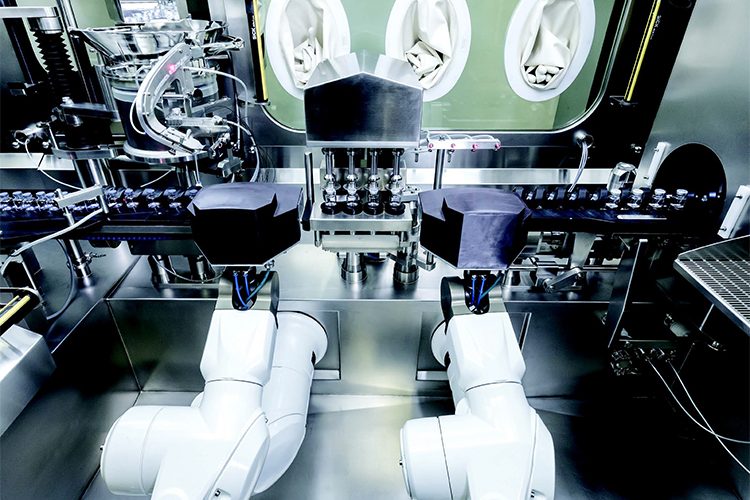 These applications are compatible with vials, ampoules, cartridges and syringes and can handle toxic or non-toxic products in both liquid and powder form.
Steriline's complete lines include equipment spanning from washing machines, depyrogenation tunnels, filling and capping machines to external decontamination machines and barrier systems such as LAF, oRABS, cRABS and isolators.
Quality and sustainability
In 2015 Steriline has been certified ISO 9001:2008 and in 2018 ISO 9001:2015 and fulfills quality management system requirements, covering all production processes and organizational procedures to continuously improve customer satisfaction. Steriline is also compliant with cGMP, GAMP and 21CFRPart11 requirements. Moreover, Steriline places high relevance on protecting the environment and adopts sustainable business practices. The company complies with all applicable legislations regarding the environment and works economically and responsibly with resources.
Focus on robotic applications
In line with its pioneering role in the field of robotic applications for the aseptic processing market, Steriline's efforts aim to widen the portfolio of robotic solutions to complement and further enhance the high quality, efficiency and safety standards ensured throughout its aseptic filling lines.
As of today, Steriline offer includes:
Vial filling machines (RVFM)
Vials capping machines (RVCM)
External decontamination machines (EDM-RHP)
Tray loader (RTL)
Tub decontamination system (RTDS2)
Nest filling machine (RNFM)
Robotic vial filling machines (RVFM)
Designed for campaign production with containment technology
Vial transport with anthropomorphic vaporized H2O2 compatible STÄUBLI robot
Maximum of 12 open vials involved in filling and stoppering operations at the same time
throughout the machine (1 vial (RVFM1), 4 vials (RVFM2), 12 vials (RVFM5)
Minimum format parts and electronic adjustment of all parameters for different vial sizes
Peristaltic and volumetric piston pump dosing systems
Handling of single-use disposable system option
100 percent in-process control (= IPC) or statistical check weighing system directly under the filling
nozzles with feedback to dosing pumps
Net weight filling: no product waste fills up to target value for underfilled vials. No product
waste during the product path priming
Nitrogen flushing before and after filling
Capping unit integration on the same monoblock.
Zero reject philosophy: repeated operations for missing stopper detection
Continuous monitoring of the viable and non-viable particles
Compliance with cGMP, GAMP and 21CFR Part11 requirements
Robotic vial capping machines (RVCM)
Designed for campaign production with containment technology
Vial transport with anthropomorphic vaporized H2O2 compatible STÄUBLI robot
Maximum of 12 vials involved in capping operations at the same time throughout the machine
(1 vial (RVCM1), 4 vials (RVCM2), 8 vials (RVCM5)
Minimum format parts and electronic adjustment of all parameters for different vial sizes
One, two or four heads, depending on machine model
Zero reject philosophy. Repeated operations for missing alu-cap detection
Continuous monitoring of the viable and non-viable particles
Compliance with cGMP, GAMP and 21CFR Part11 requirements
Robotic tub decontamination system (RTDS2)
Designed to decontaminate tubs, before entering the de-liner station
Compact (1928 * 1205 mm) and light weight
Also available for trays
Tub handling with anthropomorphic vaporized H2O2 compatible STÄUBLI robot
Suitable to be installed in ISO8 environment
6 log reduction
Robotic nest filling machine (RNFM)
Suitable for the applications under oRABS, cRABS and Isolator
Combo line available for ready-to-use (= RTU) nested syringes, vials and cartridges
Semi-automatic or manual de-bagger station.
Automatic tub handling, for lid and liner removal with tyvek lid and insert removal, with
anthropomorphic vaporised H2O2 compatible STÄUBLI robot. Manual option available
Quick changeover and electronic adjustment of all parameters for different containers sizes
Nest handling through filling and stoppering operations with anthropomorphic vaporized H2O2
compatible STÄUBLI robot
Volumetric and/or peristaltic pumps dosing system
Single-use disposable systems available as option
Statistical check weighing including feedback to dosing pumps
Nitrogen gassing station
Vacuum stoppering available as option
Vacuum assisted filling suitable for viscous products
Continuous monitoring of the viable and non-viable particles
Compliance with cGMP, GAMP and 21CFR Part11 requirements
Related content from this organisation
Related topics
Related organisations