Moving towards oral delivery of biologics
In this article, EPR's Caroline Peachey speaks to Talat Imran, CEO of Rani Therapeutics, about progress towards oral delivery of biologics using robotic capsules.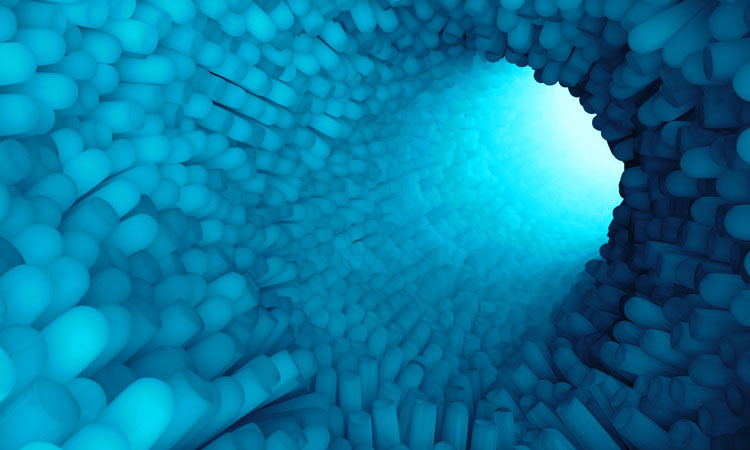 Biologics represent an increasingly large part of the pharmaceutical industry. Of the 175 new drugs approved by the US Food and Drug Administration (FDA) between 2016 and 2019, most were biologics.1
Used to treat a range of chronic diseases (eg, diabetes, rheumatoid arthritis, psoriasis, Crohn's disease, haemophilia, etc), it is projected that the sales of biologics will rise from $380 billion in 2022 to $416 billion in 2023, and to almost $600 billion in 2027.2
Most biotherapeutics are delivered parenterally, with some exceptions being ocular or inhaled formulations. Although effective, the inconvenience of regular injections can lead to poor patient adherence, with studies showing that persistence and adherence are generally better for oral medications compared with injections.3
Yet oral delivery of biologics remains a challenge: biotherapeutics are susceptible to rapid breakdown and digestion by gastrointestinal proteases/enzymes and suffer from poor intestinal absorption.4
Overcoming the obstacle of oral delivery
Over the years there have been numerous efforts to deliver biologics orally, but with limited success. Why is this?
The GI tract is a hostile environment with several physiological barriers to the absorption of biologics in the intestine. Crossing the stomach can be achieved using enteric coatings, which prevent capsule dissolution at low stomach pH, but allow them to readily dissolve at higher pHs in the lumen of the intestine.5
However, once biologics reach the intestine there are four things that can happen to them:5
pH-induced proteolysis causes them to break down into smaller peptides or amino acids, which are taken up by receptor processes in the epithelium (part of the digestion process)
Drugs that are resistant to digestion, eg, small molecules, interact with cell receptors, with the aim of translocating across the enterocytes in intact form
Having survived attack by proteases, proteins of microbial origin are taken up by Peyer's patches and stimulate an immune response
Other proteins resisting degradation are also taken up by Peyer's patches, whereupon a potential immune response towards them is suppressed.5
Overall, these factors result in biopharmaceuticals having oral bioavailability of less than one percent.4
Strategies employed to overcome these issues have included biology-based, chemistry-based and physical approaches. These range from the use of permeation enhancers to protease and enzyme blockers. There are also chemicals that remove the mucus layer in the intestine, which can hinder diffusion of biologics to the underlying epithelium.
"This is an arms' race that the gut has been fighting for millions of years," explained Talat Imran, CEO of the San Jose-based Rani Therapeutics. "No one has cracked the code yet and people have been trying for nearly 50 years."
In a quest to overcome these challenges, the clinical-stage company has developed an ingestible robotic pill (RP) for delivery of biotherapeutics. Termed RaniPill, the system has potential to be used for multiple indications and across various modalities, according to Imran.
To date, Phase I clinical trials have been conducted for Rani Therapeutics' neuroendocrine tumour candidate (RT-101) and osteoporosis treatment (RT-102), both of which met their clinical study endpoints.
"[These] data give us confidence to move forward with multiple programmes in parallel…and to expand manufacturing scale-up," shared Imran. "We can see a future where millions of patients no longer carry the burden of regular injections."
Robotic capsule delivery
Describing the delivery system in simplistic terms, Imran refers to it as a 'robot' that looks like any other pharmaceutical capsule.
The RP comprises an auto-injector enclosed in a capsule shell, which is enterically coated to prevent dissolution in the acidic environment of the stomach (pH 1-4). The payload is packaged inside a dissolvable needle, loaded within a microsyringe that is attached to a folded, self-inflating balloon.
No one has cracked the code yet and people have been trying for nearly 50 years
Once the capsule reaches the small intestine (pH 6-6.5) the enteric coating and the capsule dissolve. This, Imran explained, triggers a chemical reaction between citric acid and potassium bicarbonate which produces carbon dioxide and leads to inflation of the balloon.
"As the balloon expands it orients itself along the axis of the intestines, putting the syringe perpendicular to the wall of the intestines," Imran said.
"When the balloon reaches a sufficient pressure, this pushes the dissolvable needle into the intestinal wall, delivering the drug payload." After delivery, the balloon deflates and is ultimately excreted through the GI tract with normal bowel movements.
"There are no sharp pain receptors in the gut, so [patients] don't feel the injection," Imran added. "We have confirmed this in close to 100 subjects who have swallowed the RP."
Clinical trial results
Rani Therapeutics has completed two clinical studies to date, resulting in more than 180 RaniPill™ GO capsules being administered to more than 90 participants.6 This is in addition to some 1,300 capsules given to animals in preclinical studies.
Results from the first open-label, single-centre study of RT-101,6 which was conducted in Australia, were reported at the start of 2020. As part of the study 52 healthy adult volunteers (aged 18 to 55) received 100µg of octreotide delivered via the orally ingested RP, while a control group of six subjects received a single intravenous injection of an identical dose of octreotide. Results of this study demonstrated that bioavailability of Octreotide-RP was 65 percent, comparable to subcutaneous injection. No serious adverse events were reported.
In December 2022, Rani Therapeutics announced positive topline results from the second part of its Phase I trial conducted with RT-102,7 which contains a formulation of human parathyroid hormone (1-34) analogue (PTH) being developed for the treatment of osteoporosis. PTH is typically administered by self-injection.
The study evaluated, among other things, the safety and tolerability of once‑daily administration of RT‑102 containing 20μg of PTH taken repeatedly for seven consecutive days in 10 healthy female volunteers (five of whom were post-menopausal). Complete pharmacokinetic profiles of PTH were obtained for each subject on Day 7.
The study achieved all its endpoints, with repeat doses of RT-102 being generally well tolerated and delivering the drug with high bioavailability.
"The capsule continues to deliver drug payloads to subjects at success rates exceeding 90 percent," announced Mir Hashim, PhD, Chief Scientific Officer of Rani. "Importantly, we believe the safety, reliability, and pharmacokinetic data that we collected through both parts of the Phase I study support the initiation of a Phase II trial of RT-102 in osteoporosis," Hashim said. This trial is anticipated to begin in the second half of 2023.
In 2023, Rani Therapeutics plans to begin three additional Phase I studies with pipeline molecules RT-105 (containing an adalimumab biosimilar), RT-110 (containing PTH for hypo-parathyroidism) and RT-111 (containing an ustekinumab biosimilar for psoriatic arthritis, ulcerative colitis, Crohn's disease and psoriasis).
Rani recently partnered with Celltrion for the development of RT-111. Under the agreement, Celltrion will exclusively supply to Rani the ustekinumab biosimilar drug substance (CT-P43) required for its RT-111 programme. In turn, the South Korean biopharmaceutical company is granted a right of first negotiation to acquire worldwide rights to RT-111 following a Phase I clinical trial.8
Future potential
Celltrion sees potential for the platform to be applicable to other biologics, according to SungHyun Kim, Head of the company's Medical Science Division.8
The adoption of the robotic delivery system could work for a range of modalities, including monoclonal antibodies and large proteins, according to Imran.
"We are demonstrating roughly equivalent bioavailability to a subcutaneous injection across proteins, peptides and antibodies," Imran stated. There is also potential for the RP to be used in the immunotherapy space, for delivery of oligonucleotides or enzyme replacement therapy.
Looking ahead, in the next five years Imran is hopeful that the first oral biologics will be on the market.
Alternative routes of administration – a focus on oral biologics
"If you go out to 10 years, I hope [oral biologics have] become the standard in virtually every category, and there are either approvals or clinical trials being run so that the millions of patients that take injectable biologics – or the vast majority of them – can ultimately switch over to oral therapies," he enthused.
Imran envisions a future where naïve patients can start on oral therapies, never having to experience the burden of injections.
"It's not just convenience," Imran explained. "If you can get patients started on therapies earlier, you could slow the progression of their disease and obviate some of the terrible symptoms," he added. "My ultimate dream…is that we can slow the progression of chronic diseases [by making] these very effective therapies available as an oral option."
Manufacturing and scale-up plans
Manufacturing of the robotic capsule takes a novel approach as it is a drug/device combination. To achieve sterility, Imran explained that microtablets of the drug product are inserted and sealed inside the dissolvable needles, which are enclosed into the needle chamber under aseptic conditions.
Asked about the manufacturing process, Imran explained that the pills are currently batch manufactured, although there are plans to transition to a more automated process in 2023.
"We are going through the process of automating each one of those manufacturing steps," Imran said, noting that the decision has been taken to scale with need, ie, to develop the capacity to support the Phase II trial and multiple Phase I studies this year.
This stepwise scale-up will see a move from batch manufacturing to a semi-automated setup, before eventually achieving full automation of every step for continuous manufacturing. Simultaneously, the company will need to scale capacity/throughput to shift from making several hundreds of pills to support trials to thousands for commercial-scale manufacture.
References
Urquhart L. Top companies and drugs by sales in 2021. Nature Reviews Drug Discovery. 2022;21(4):251–.
Biologics Global Market Report 2023. The Business Research Company. 2023.
Guerci B, Chanan N, Kaur S, et al. Lack of treatment persistence and treatment nonadherence as barriers to glycaemic control in patients with type 2 diabetes. Diabetes Therapy. 2019;10(2):437–49.
Dhalla AK, Al-Shamsie Z, Beraki S, et al. A robotic pill for oral delivery of biotherapeutics: Safety, tolerability, and performance in healthy subjects. Drug Delivery and Translational Research. 2021;12(1):294–305.
New R. Oral delivery of biologics via the intestine. Pharmaceutics. 2020;13(1):18.
A first-in-human study of the RANIPILL, an oral drug delivery platform [Internet]. Clinicaltrials.gov. 2019 [cited 2023Feb]. Available from: https://clinicaltrials.gov/ct2/show/NCT03798912
Rani Therapeutics announces repeat-dose topline results from RT-102 phase 1
study [Internet]. Rani Therapeutics, LLC. 2022 [cited 2023Feb]. Available from: https://ir.ranitherapeutics.com/news-releases/news-release-details/rani-therapeutics-announces-repeat-dose-topline-results-rt-102
Celltrion and Rani Therapeutics partner on development of oral monoclonal antibody treatment [Internet]. Rani Therapeutics. 2023 [cited 2023Feb].
About the authors

Talat Imran was appointed CEO of Rani Therapeutics in June 2021. He has been a key member of the executive team, most recently serving as the company's Vice President, Strategy since 2014. In addition to his role at Rani, Talat has been a venture capitalist with several healthcare-focused Silicon Valley funds, including InCube Ventures, LP and VentureHealth. He earned a BA in Computer Science from the University of California, Santa Cruz.

Caroline Peachey is Editor of European Pharmaceutical Review.