STAR particles could be the future for treating skin conditions
Novel particles could be incorporated into topical creams to treat dermatological conditions without systemic exposure to drugs.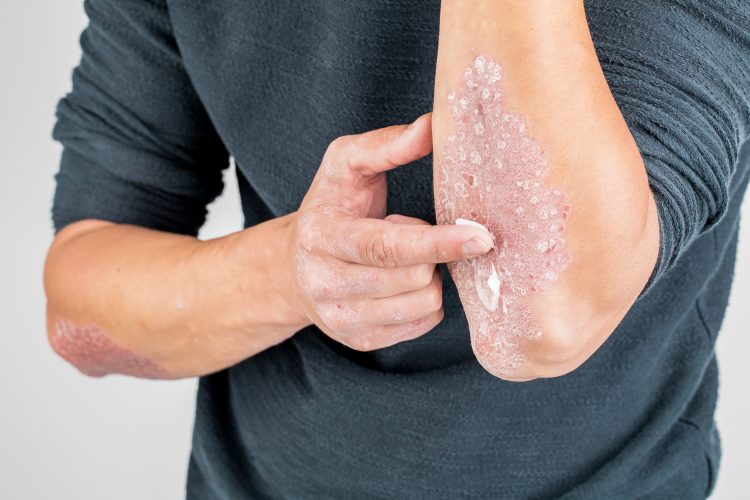 Researchers exploring how to improve dermatological treatments, so they are more effective, require less frequent injections and cause fewer significant side effects, have shown that adding STAR particles to topical creams may be the answer.
…one of the most common psoriasis drugs, oral methotrexate, could also be adapted with STAR particles to overcome the serious systemic side effects caused by the current therapy"
The problem in dermatology is that most drugs are not absorbed well into skin, so often need to be given orally or intravenously. Exposing the whole body to dermatological drugs often has unwanted side effects such as nausea or organ damage. A novel way to topically apply drugs is needed to overcome this; fortunately, the barrier layer of skin that prevents drugs being absorbed, called the stratum corneum, can be pierced by STAR particles rubbed on the skin, enabling drugs to enter the body.
STAR particles are no larger than a millimetre and appear as a powder to the naked eye. They have microneedle projections sticking out from a centre, making them look like a star. The particles are made using a laser to shape ceramic materials like titanium dioxide, a common ingredient in sunscreens and cosmetic products.
STAR particles are modelled off microneedle vaccination patches, which have been shown to successfully deliver drugs topically, even though they were too large to typically be absorbed through the skin. When mixed into a cream and rubbed on the skin, the projections that stick out of the particles painlessly create micropores in the skin's surface that dramatically – but temporarily – increase skin permeability to drugs.
To test whether the particles would be effective in combination with drugs against skin conditions, the researchers topically applied the STAR particles alongside the cancer drug 5-fluorouracil to mice with skin cancer. The study, published in Nature Medicine, showed that tumour growth was inhibited only when the drug was rubbed on the skin above the tumour in combination with STAR particles. By comparison, the drug alone was much less effective.
"Andrew Tadros and I teamed up to adapt the microneedle technology and make it useful, especially in dermatology," said Mark Prausnitz, study leader from the Drug Delivery Lab at the Georgia Institute of Technology and Regents Professor and J. Erskine Love Jr. Chair in the Georgia Tech School of Chemical and Biomolecular Engineering, US. "Microneedle patches are good at administering drugs or vaccines to a small area of skin, but many dermatological conditions are spread over larger areas. Rather than trying to make really big patches, which would be difficult to use, we ultimately arrived at STAR particles that can be rubbed on the skin – just like any skin lotion – and poke tiny holes in the skin to better deliver drugs."
The researchers suggest that one of the most common psoriasis drugs, oral methotrexate, could also be adapted with STAR particles to overcome the serious systemic side effects caused by the current therapy. These include diarrhea, hair loss and liver problems. Prausnitz said that at the moment doctors must weigh the costs of exposing the whole body to a drug versus treating psoriasis topically, which may be less effective, and that is where STAR particles could provide value.
"Based on our studies, you could feasibly combine methotrexate with STAR particles into a cream and localise the therapy where it is needed," Tadros said. "The STAR particles in the cream would enable drugs to get into skin and treat diseases locally, right where it needs to be treated, without exposing the whole body to the drug."
Skin creams that deliver drug therapies could widen the range of compounds administered topically, suggested the team. Non-medicinal creams infused with STAR particles have been tested on humans, who generally reported experiencing a mild and comfortable tingling sensation, but no pain or skin irritation.
Prausnitz said he hopes STAR particles could be scaled up for commercial uses including dermatology and cosmetic purposes.