Inhaled antibody treatment for COVID-19 shows success in pre-clinical trials
Researchers have developed a monoclonal antibody called AR-711 that is highly neutralising against COVID-19 in an inhaled formulation.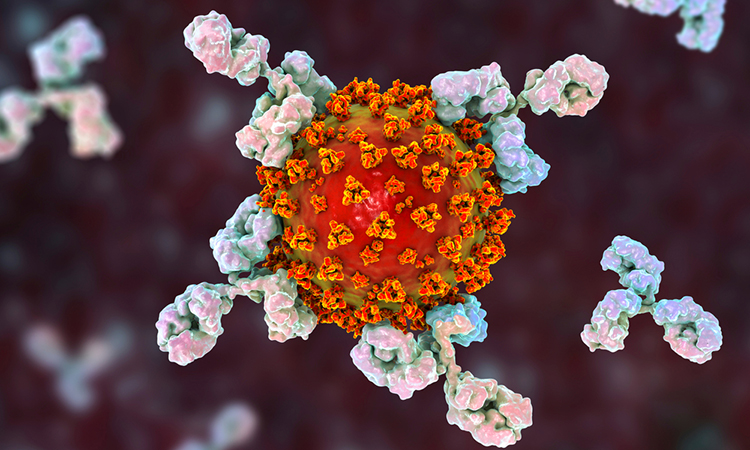 A highly neutralising monoclonal antibody (mAb), named AR-711, discovered from convalescent COVID-19 patients, has successfully eliminated all detectable SARS-CoV-2 virus in infected animals at substantially lower doses than injected COVID-19 mAbs. The developers, from Aridis Pharmaceuticals, say the potency of AR-711 and its direct delivery to the lungs by inhaled administration may facilitate broader treatment coverage and dose sparing not achievable by parenteral administration.
AR-711 is directed against the conserved receptor-binding domain (RBD) region of the original SARS-CoV-2 virus and its newly emerging variants including the currently prevalent strain G614. The mAb is engineered to be long-acting in blood for up to six to 12 months.
The antibody was stabilised using a proprietary formulation designed to protect the mAb from the physical stresses imparted by commercial nebuliser delivery devices on protein drugs. The company says that as an inhalable treatment, it can be self-administered using a wide variety of commercially available nebulisers to facilitate broader coverage in non-hospitalised settings and at a scale not achievable using conventional inpatient IV infusion treatments.
AR-711 is a fully human immunoglobulin 1 (IgG1) mAb discovered from screening the antibody secreting B-cells of convalescent COVID-19 patients. The antibody exhibits high affinity for the SARS-CoV-2 Spike (S) protein, approximately 10-fold or higher than mAb candidates currently in late stage clinical testing. AR-711 was previously shown to be effective in prophylactic as well as therapeutic treatment modes in a SARS-CoV-2 viral challenge study. 
In the animal challenge study, golden Syrian hamsters were pre-infected with SARS-CoV-2 before a single inhalation exposure of AR-711 liquid aerosols. The antibody eliminated detectable SARS-CoV-2 virus at all dose levels tested, with the lowest lung deposited dose of 0.03mg/kg. 
"As we expected, combining a highly potent mAb with direct delivery to the lungs, which is the main target of the COVID-19 virus, achieved impressive efficacy in these animal models. The therapeutic dose that we observed corresponds to an estimated adult human equivalent efficacious inhaled dose of 2mg to 6mg per dose. This compares very favourably to other clinical stage COVID-19 mAbs, where up to 8,000mg are being studied to achieve clinical benefit," said Dr Hasan Jafri, Chief Medical Offer of Aridis. "Given the attractive human safety data of anti-infective mAbs and our strong pre-clinical effiacy as a therapeutic treatment, we plan to evaluate the therapeutic treatment using AR-711 in non-hospitalised mild to moderate COVID-19 patients in a global study to be launched in the first half of next year."     
"The exceedingly low drug dose that achieved therapeutic efficacy is particularly exciting, as it provides a unique opportunity to meaningfully reduce treatment costs and hospitalisation burden at a potential magnitude not previously achievable with mAb therapies. We are excited to bring an entirely new treatment paradigm to the COVID-19 fight," commented Dr Vu Truong, Chief Executive Officer of Aridis Pharmaceuticals. 
The data is available on BioXriv.