Quality Risk Management tools to improve data integrity in micro QC

ABOUT THIS WEBINAR
Several aspects of data integrity are being discussed these days. Finding which approach, product, or tool suits your organisation best can be challenging, but is essential to help reduce risk and keep your processes controlled.
This webinar visually summarised the ICH Q9 Quality risk management GMP document and explained how you can use the approach and tools described to proactively improve your microbiological QC assays in terms of data integrity. During this hour, we provided examples for endotoxin, sterility, and micro ID tests on how to use the failure mode, effects, and criticality analysis (FMECA) method to identify, analyse and evaluate the inherent data integrity risks.
Learning objectives:
Definition of risk, principles of risk, and the Quality Risk Management (QRM) process.
Available QRM tools and the benefits that our organisation can take from this approach.
QRM examples for endotoxin, sterility and microbiological ID testing using the FMECA method.
Register
Speaker
Jordi Iglesias, Technology and Market Development Manager II, Charles River Laboratories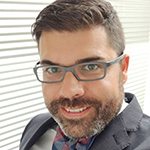 Jordi Iglesias is a product specialist with Charles River's Microbial Solutions team, serving as a technology and market development manager for the Endosafe® (endotoxin testing) brand in Europe while providing support in Spanish-speaking regions. Previously, he worked in the pharmaceutical industry as an aseptic and microbiology lab manager at Zoetis for nearly 15 years. While there he designed product validations (bioburden, sterility and endotoxins), environmental monitoring plans, cleaning and disinfection programmes, and training for aseptic area operators; he was also part of the human performance (human error assessment) group. In addition to his role at Charles River, Jordi is a member of the European Directorate for the Quality of Medicines (EDQM) microbiology group.
Related topics
Analytical techniques, Assays, Biopharmaceuticals, Data integrity, Endotoxin, Environmental Monitoring, Gene therapy, Good Manufacturing Practice (GMP), ICH guidelines, Lab Automation, Medical Devices, Microbiology, Outsourcing, QA/QC, Regulation & Legislation, Supply Chain, Vaccines
Related organisations