Whitepaper: Current trends in Raman Spectroscopy for Upstream Bioprocess Monitoring and Control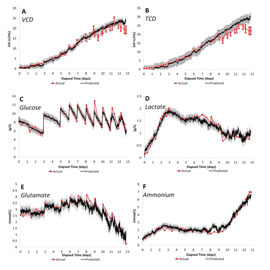 This application note covers some new trends in bioprocess monitoring and control focusing on the increasing use of Kaiser Optical Systems Raman spectrometers as multi-measurement bioprocess sensors to enable quality by design, process optimization, process control and continuous processing…
More than ten years have passed since the creation of the Food and Drug Administration's (FDA) Process Analytical Technology (PAT) framework, during which the bioprocess has continuously evolved resulting in new challenges that have been addressed with a multitude of innovative measurement and control solutions.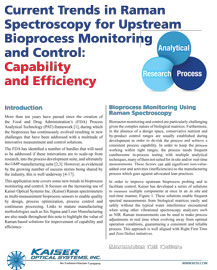 The FDA has identified a number of hurdles that will need to be addressed if these innovations are to scale-up from research, into the process development suite, and ultimately the GMP manufacturing suite. However, as evidenced by the growing number of success stories being shared by the industry, this is well underway.
This application note covers some new trends in bioprocess monitoring and control. It focuses on the increasing use of Kaiser Optical Systems Inc. (Kaiser) Raman spectrometers as multi-measurement bioprocess sensors to enable quality by design, process optimization, process control and continuous processing. Links to mature manufacturing methodologies such as Six Sigma and Lean Manufacturing are also made throughout this note to highlight the value of Raman-based solutions for improvement of capability and efficiency.
Related topics
Related organisations