Application note: Impurity analysis of gabapentin by HPLC-UV-CAD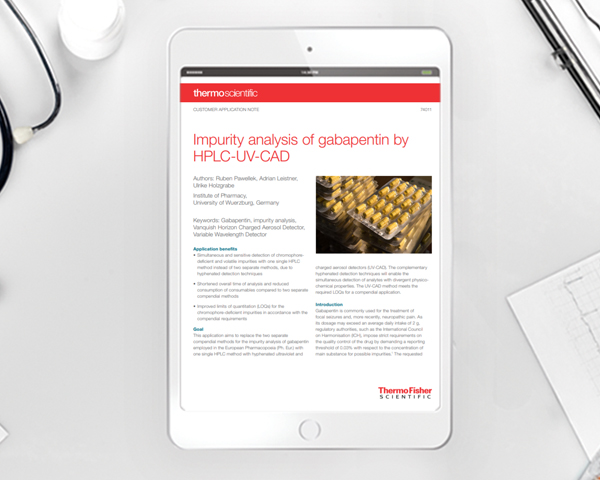 This application aims to replace the two separate compendial methods for the impurity analysis of gabapentin with one single HPLC method.
Gabapentin is commonly used for the treatment of focal seizures and neuropathic pain. Regulatory authorities impose strict requirements on the quality control of the drug. The requested 2 limits of quantitation (LOQs) cannot be accomplished when applying the routinely used HPLC-UV procedure, as gabapentin and some of its impurities are chromophore deficient substances. The hyphenation of ultraviolet and charged aerosol detectors offers a solution to the challenging impurity profiling.
Related topics
Analytical techniques, Biologics, Biopharmaceuticals, Chromatography, Data integrity, Excipients, Formulation, Informatics, Mass Spectrometry, Proteomics, QA/QC, Regulation & Legislation, Research & Development (R&D), Spectroscopy, Vaccines
Related organisations